You'll Never Guess Who's Helping to Fund and Coordinate the Radical Pro-Hamas Protests Happening in America Right Now – They Even Staged An Insurrection Last Night
It appears there's a bit of sowing and reaping going on as a Democratic National Committee event in Washington, DC has been evacuated after violent pro-Palestine (aka pro-Hamas) protesters descended on the meeting and clashed with police while they were trying to get into the building. U.S. Capitol buildings have also been locked down!
Here are some clips from the fiery but mostly peaceful scene:
This is currently happening outside the DNC headquarters in Washington.

Far-left pro-Palestine rioter are clashing with police trying to enter the building.
pic.twitter.com/5jdeDZV2hP

— Greg Price (@greg_price11) November 16, 2023
Here's one of the rioters outside the DNC tonight.

She seems sane…pic.twitter.com/7xTBWfmIkZ

— Greg Price (@greg_price11) November 16, 2023
🚨#BREAKING: The Capitol Police have announced that six of their officers were injured, with injuries ranging from minor cuts to being pepper-sprayed and punched. One person has been arrested for assaulting an officer, along with other arrests from tonight's violent gathering pic.twitter.com/912YfisfDW

— R A W S A L E R T S (@rawsalerts) November 16, 2023
So they even decided to stage an insurrection but we are pretty sure that the mainstream media will stay silent!
American cities and college campuses are being overrun by radical leftists protesting in favor of Hamas. These protests are not organic. They are being funded and organized and you'll never guess who is helping to do it.
It's not George Soros, although no one would be surprised if he was involved in some way.
Neville Roy Singham and his wife Jodie Evans are China propagandists—and a primary source of the fury exploding on our streets.

A multimillionaire tech mogul and his wife are helping to bankroll groups behind pro-Palestinian protests that have occurred in the wake of the Oct. 7 terror attack by Hamas on Israel.
Neville Roy Singham, a U.S.-born entrepreneur who made millions after founding and selling an IT consulting firm called Thoughtworks, and his wife Jodie Evans, the co-founder of left-wing anti-war group Code Pink, have been the primary funders of a group called The People's Forum since 2017, according to a report by The Free Press's Francesca Block. The group bills itself as a "movement incubator for working class and marginalized communities" and "nurtures the next generation of visionaries and organizers who believe that through collective action a new world is possible."
The People's Forum has played a role in organizing several pro-Palestine protests since Hamas' attack on Oct. 7 in which the terror group's members killed at least 1,200 Israelis and took over 200 hostages from Southern Israel into Gaza.
On the day of Hamas' attack, the group appeared to offer no condemnation of the terror group's actions and called for an end to "US aid to the Zionist occupation" and tweeted images of posters stating, "From the river to the sea, Palestine will be free" — a slogan that has been criticized as being antisemitic and was cited in the House's censure of Rep. Rashida Tlaib, D-Mich.
OPINION: This article contains commentary which reflects the author's opinion
Reminder: The purpose of the articles that you will find on this website, are to EDUCATE, not to disinform or grow hate and anger!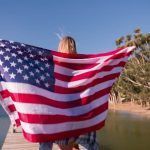 Michelle is American conservative author she is committed to the constitutional principles of individual freedom, economic liberty, limited government, personal responsibility, and traditional values. She is a libertarian and provocateur who believes in freedom and liberty for all Americans. As a passionate journalist, she works relentlessly to uncover the corruption happening in Washington, while exposing politicians and individuals who wish to do us harm.