After They Said Trump Has Lack Of Empathy, Watch Houston's Pastor As He WARNS THE WORLD: DONALD TRUMP Is NOT WHO YOU THINK HE IS … This Is Big!
Trump is a very compassionate man with a big heart and the evil ones are the ones who bare false judgemental on him daily. Almost immediately after the storm of "epic proportions" torn Texas, President Trump did his best in an effort to help all these people in need. He didn't waste any time and went to Texas for a first-hand look at the devastation.
But this was not enough for the liberals who kept attacking our President instead of getting off their lazy asses and do some volunteer work or make a donation. Six days ago CNN correspondent Jeff Zeleny fall so low with his remarks that President Donald Trump's lack of empathy and emotion for the victims of Hurricane Harvey was striking to him.
However, taking an opportunity in a time like this to make a political attack on the President is showing lake of empathy on CNN's Jeff Zeleny's part.
But, the left keeps misjudging Trump. It appears they are too dumb to figure him out. Luckily, Pastor Ken Gurley of Houston's First Church of Pearland, defended President Trump from the critics from the left with his description of Trump's visit a day earlier to Houston to offer aid and comfort to the victims of Hurricane Harvey. On Fox News on Sunday, Pastor Gurley explained in vivid details, how it felt when the president stepped into his church.
"Everything in Houston has been just very dramatic, a lot of emotional struggles … to have the president, first lady, cabinet secretaries and others come, it was just a joy and it was like a shot of adrenaline.
When asked about what had specifically inspired him about the president's visit Pastor Gurley said: "He came across as very compassionate, as very concerned, extremely engaged in the process."
"The Monday morning after Ike was when Lehman Brothers went under and the financial panic began," he said. "And we were lost, and basically no one communicated with us."
But this time it's been different: "To see an engaged administration come down, support the community of faith … and (Trump) walking into that room (in the church) and telling them that he's with us, it was like the George W. Bush moment at 9/11."
"He and the first lady actually joined in and started delivering goods, and he acted like an old pro at it — he was engaged," Gurley said.
He actually said to the liberals into our country and around the world Donald Trump is not who you think it is he is a good and kind leader!
They will not take this easy!
That is my President soft inside, ruff on the outside! But that is how he needs to be to deal with the burdens he handles every day and the evil is thrown around about his family as well as himself! But, they hold their heads up and walk with pride.
I think that we finally have a great PRESIDENT. One that understands what the people want and need, and is ready to deliver. I thank God for President and First Lady Melania. They are just what this country needs.
What do you think? Share this article so can more people see the reality behind President Trump's visits to Texas!
Scroll down to leave a comment below!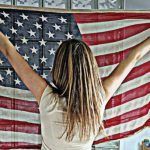 Natalie D. is an American conservative writer! Natalie has described herself as a polemicist who likes to "stir up the pot," and does not "pretend to be impartial or balanced, as broadcasters do," drawing criticism from the left, and sometimes from the right. As a passionate journalist, she works relentlessly to uncover the corruption happening in Washington.She is a "constitutional conservative".