Video: Biden Has Yet Another Teleprompter Fail – This Time He Decided To Repeat His Gaffe From Two Months Ago
President Joe Biden the teleprompter reader in charge of America is once again being mocked for reading punctuation and cues from the teleprompter while speaking to Americans. During a speech that Joe Biden gave on the cancer moonshot initiative, he once again appeared to read directly from the teleprompter.
Biden said "President Kennedy said on this day 60 years ago, 'We set sail on this new sea because there is new, [life-saving] knowledge to be gained" that must be used for "progress of all people.' End of quote."
Video below:
Earlier in the speech, Biden quoted from a letter he received after the passing of his late son Beau, which he also concluded "End of quote."
This is hardly the first time Biden has read from the teleprompter "end of quote." The most notable time this previously happened was last July.
At the time Biden said "End of quote. Repeat the line," at a White House event.
No. He said, "let me repeat that line."

— Emilie Simons (@EmilieSimons46) July 8, 2022
After the footage was shared on social media and critiqued, White House assistant press secretary Emilie Simons responded.
"No. He said, 'let me repeat that line,'" she claimed.
The fact checkers then uncritically cited the doctored official White House transcript to prove that Biden didn't actually say what he said.
FactCheck.org's Brea Jones cited the White House transcript and falsely claimed that clips being shared on social media "shared a shortened clip" of Biden's remarks.
The Poynter Institute's Louis Jacobson and Andy Nguyen quoted Simons' bogus defense and the White House transcript, but noted that Biden "can't be heard" saying the "let me" that she claims he said before "repeat the line." Despite that single fact destroying Simons' and the White House's lie, Jacobson and Nguyen pointed to six other times in Biden's life that he prefaced a statement with "let me," which they claimed was evidence that Biden's teleprompter must've said "let us" and he just forgot to read it. None of them found it odd that Biden ends quotes with "end of quote."
Reality didn't get in the way of the Biden administration in spinning that, and the fact-checkers happily obliged.
(This post may contain disputed claims. We make no assertions as to the validity of the information presented by our Opinion Columnist. This is an opinion article, and this post should be treated as such. Enjoy.)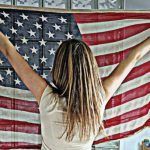 Natalie D. is an American conservative writer! Natalie has described herself as a polemicist who likes to "stir up the pot," and does not "pretend to be impartial or balanced, as broadcasters do," drawing criticism from the left, and sometimes from the right. As a passionate journalist, she works relentlessly to uncover the corruption happening in Washington.She is a "constitutional conservative".