Media Try To Connect DeSantis Flights To Martha's Vineyard With Russia And It's An Epic Fail (Screenshots)
Whether President Joe Biden is doing enough to limit illegal immigration is a key issue raised by Republicans this midterm election cycle.
To draw attention to the topic, Florida Gov. Ron DeSantis flew around 50 immigrants to Martha's Vineyard, Massachusetts, on Sept. 14 — surprising local officials and making them scramble to accommodate the group.
DeSantis isn't the first Republican governor to send newly arriving migrants out of his state:
Republican Texas Gov. Greg Abbott has bused more than 7,000 immigrants to Democratic-led cities like New York City, Washington, D.C., and Chicago. On Sep. 15, Abbott sent two buses of immigrants to Vice President Kamala Harris' residence in the nation's capital; and
Arizona's Gov. Doug Ducey, also a Republican, has bused around 1,800 migrants to Washington D.C.
DeSantis however is the first of those governors which the mainstream media tries to connect with Russia.
A new "report" is alleging that the company contracted for the flights has nefarious ties to the Kremlin. Is that reality?
NEWS: The little-known aviation company awarded the migrant "relocation" contract by the DeSantis administration purchased 6 helicopters from the Russian government in 2018 for $42 million. Other significant business with Kremlin-adjacent companies. https://t.co/YFjdncOU26

— Scott Stedman (@ScottMStedman) September 17, 2022
Sounds awful, right? Clearly, VSC, the company in question, are secret Russian agents and DeSantis only used them because he's a Putin-stooge. But let's go through this because it's obvious the "reporter" here simply has no idea what he's talking about.
Other bills of lading, however, show that VSC has imported helicopters directly from Russian government-owned corporations.

On December 13, 2018, VSC imported into the Destin Executive Airport six helicopters from the Ulan-Ude Aviation Plant in Russia's Far East district of Buryatia. The total price of the transaction was $48 million according to the bill of lading. The document includes a description of the products shipped in Cyrillic which translates to, "HELICOPTERS: WITH MORE THAN 2000 KG EMPTY WEIGHT, CIVIL."
Screenshots below:
Bill of lading showing import of helicopters from Russia.
The purchase was made in 2018, long before Russia was put under any sanctions related to the war in Ukraine. So right there, this entire hit piece falls flat on its face.
Still, I find the details of this hilarious. VSC is a government contractor that also does flight training. Now, ask yourself why they might import eight Russian helicopters. Could it be because they do flight training that they were contracted through the federal government since the United States can't just go out and buy Russian helos themselves? That's speculation on my part, but it makes a whole lot more sense than the idea that there's anything nefarious going on here.
My favorite part of the report is this.
VSC's equipment, much of it imported from Russia or Ukraine, has a history of faltering. A 2011 National Transportation Safety Board (NTSB) review found that a VSC fixed-wing aircraft crashed into a field after experiencing a "total" loss of engine power. The pilot, "heard a loud, 'metal-on-metal' sound," the NTSB reported.

"The engine vibrated violently, and it subsequently quit completely. The airplane was force landed in a farm field and nosed over in the soft terrain." The three people aboard the plane were not injured. The plane suffered substantial damage.
The reporter already bragged that his report is expected to be reported by every mainstream media as they already contacted him!
(This post may contain disputed claims. We make no assertions as to the validity of the information presented by our Opinion Columnist. This is an opinion article, and this post should be treated as such. Enjoy.)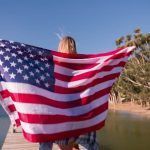 Michelle is American conservative author she is committed to the constitutional principles of individual freedom, economic liberty, limited government, personal responsibility, and traditional values. She is a libertarian and provocateur who believes in freedom and liberty for all Americans. As a passionate journalist, she works relentlessly to uncover the corruption happening in Washington, while exposing politicians and individuals who wish to do us harm.