Tulsa Officer Drives Over A Woman After She Shots At The Police
On Thursday Tulsa Police released dash camera video of an officer running over 21-year-old Madison Dickson as she allegedly fired at police.
The video shows Dickson running and then turning and pointing her gun at the officer in the squad vehicle.
According to police reports, twenty-one-year-old Madison Suzanne Dickson was wanted over four gun-related incidents. When officers had located her at an apartment complex on Saturday, she jumped into a parked truck and then after a short pursuit, she eventually jumped out of the truck and began exchanging gunfire with at least two officers before she was struck by the patrol car.
Watch the video:


With a reputation for extreme violence, authorities weren't taking any chances with Madison Dickson, even after she had been run over by a police cruiser.
Tulsa Police Officer Leland Ashley told Tulsa World that two other officers had also fired their guns in the exchange.
"She had every opportunity to stop and turn herself in," said Ashley.
In the week before her confrontation with police on March 18, Dickson was implicated in a string of gun-related crimes.
Dickson was additionally accused of discharging a firearm during a March 11 theft at a Best Buy store.
Police also said that no one was struck by any bullets and Dickson died on Saturday after officer Jonathan Grafton, deliberately hit her with his patrol auto to stop her from shooting at police.
It is very sad what happened to this young girl… but she had a gun and the officer was just doing his job!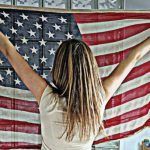 Natalie D. is an American conservative writer! Natalie has described herself as a polemicist who likes to "stir up the pot," and does not "pretend to be impartial or balanced, as broadcasters do," drawing criticism from the left, and sometimes from the right. As a passionate journalist, she works relentlessly to uncover the corruption happening in Washington.She is a "constitutional conservative".