Bicyclist Captured A Video Of An Event That Happens Once In A Lifetime
Too many people do not take in the beauty of the world we live in. When we find ourselves approaching storm clouds, most often, our first thought is to get as far away as soon as possible.
However, one bicyclist was so intrigued with what he saw before his eyes. An act of nature!!!
That's when he used the moment and pulled out his phone to record the phenomenon. This is probably one of the strangest things you'll ever see in the sky if you actually get a chance to see it in person.
His footage raised a lot of controversies, but at the end it was clear…The mysterious dancing light and clouds were not a paranormal activity but instead, a phenomenon that has been reported for over 300 years.
It is called a Crown Flash or Leaping Sundog.
Indiana residents saw a flash crown, a rare event in which the sun shines on the ice crystals guided by the magnetic field that is constantly building and dissipating above the storm cloud that changes the orientation of the ice crystals, making it look like it jumps around.
This looks amazing. However, these events are usually not visible to the naked eye. Because the sun is still out when it does, the video captured by the bicyclist really is once in a lifetime event.
Glad that the bicyclist caught this on his camera. It is awesomely impressive!
The bottom line is it's one of God's beautiful, marvelous handiwork and masterpiece… Master and Creator of all things!!!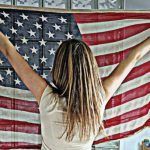 Natalie D. is an American conservative writer! Natalie has described herself as a polemicist who likes to "stir up the pot," and does not "pretend to be impartial or balanced, as broadcasters do," drawing criticism from the left, and sometimes from the right. As a passionate journalist, she works relentlessly to uncover the corruption happening in Washington.She is a "constitutional conservative".