Video: Report Reveals Secret Mission to Prevent Old Joe From Falling; Mission Fails as Biden Arrives in Michigan
According to a new report by Axios, White House insiders are secretly working to prevent feeble Joe Biden from falling down.
Via Axios:
Biden's balance difficulties are likely the result of what his physician has diagnosed as "a combination of significant spinal arthritis" and "mild post-fracture foot arthritis."
Biden works out many mornings with physical therapist Drew Contreras, who also worked with former President Obama.
Biden's doctor has recommended exercises for balance, which he called "proprioceptive maintenance maneuvers."
What the maneuvers entail is unclear.
"I have never heard the term 'proprioceptive maintenance maneuvers.' It is not a clinical term in standard use," said Professor James Gordon, associate dean and chair of the Division of Biokinesiology and Physical Therapy at the University of Southern California.
The mission failed as soon as he arrived in Michigan!
President Biden nearly took a tumble down the stairs while getting off Air Force Once in Michigan on Tuesday, hours after it was exposed that his campaign team was making efforts to prevent the president from taking a spill in public during the election season.
The 80-year-old president had just landed in Detroit when he disembarked from the jumbo jet at Detroit Metro Airport.
Around the eighth step, Biden was seen slipping before quickly correcting his balance and continuing down the steps.
Video below:
Observers noted when Biden began wearing sneakers in public this summer after his nasty fall at the Air Force Academy in June. He also began boarding Air Force One via shorter stairs to a lower level, another move aimed at preventing falls.
Nothing can help him as he continue to trip and fall!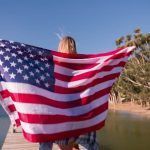 Michelle is American conservative author she is committed to the constitutional principles of individual freedom, economic liberty, limited government, personal responsibility, and traditional values. She is a libertarian and provocateur who believes in freedom and liberty for all Americans. As a passionate journalist, she works relentlessly to uncover the corruption happening in Washington, while exposing politicians and individuals who wish to do us harm.