Video: Middle Schoolers Were Told To Wear Rainbow Colors To Celebrate Pride – The Woke Faculty Freaked Out On Their Patriotic Response
What was supposed to be a celebration of LGBTQ+ pride at the Marshall Simonds Middle School in Burlington was instead met with "intolerance and homophobia," advocates said at a Select Board meeting Monday night.
And they consider it "intolerance and homophobia," because they the kids to wear gay rainbow colors and accessories to school to celebrate LGBT+TBA, and the kids refused. Some organized a counter-protest – wearing red, white, and blue.
According to a letter to parents from Marshall Simonds Middle School Principal Cari Perchase, the incident took place during a school-approved spirit day celebrating Pride month on Friday, June 2. The spirit day was requested and sponsored by Spectrum Club — a student group for LGBTQ+ students and allies.
As part of the event, the letter said, Spectrum Club decorated the school with handmade "Happy Pride Month" signs and educational posters with messages such as "Why it's not ok to say 'That's so gay'." The club members also put up rainbow streamers and Pride flag banners, handed out rainbow stickers, and ordered students and faculty to wear rainbow clothing.
Nancy Bonassera, co-chair of the Burlington Equity Coalition, said that students were invited to wear rainbow clothing on June 2 in celebration of Pride Month.
"On that same day there was a counter-demonstration in response to what should have been a day to celebrate," she said. "Students wore red, white and blue clothing, chanted 'my pronouns are USA' and destroyed rainbow decorations at the school."
The coalition is calling for "consequences" for the students who participated in the counter-protest and is urging the district to fill a diversity, equity, and inclusion role that they say has been vacant for almost a year.
"We also believe that without any direct and concrete action, these incidents will occur again and increase in severity," Bonassera said.
Video below:
So this happened at Marshall Simonds Middle School in Burlington, Massachusetts. Burlington is in Middlesex County. Middlesex County is a very liberal place.
In Middlesex County, MA 71.5% of the people voted Democrat in the last presidential election, 26.3% voted for the Republican Party, and the remaining 2.2% voted Independent.
OPINION: This article contains commentary which reflects the author's opinion
Reminder: The purpose of the articles that you will find on this website, are to EDUCATE, not to disinform or grow hate and anger!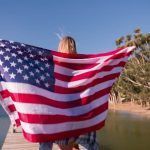 Michelle is American conservative author she is committed to the constitutional principles of individual freedom, economic liberty, limited government, personal responsibility, and traditional values. She is a libertarian and provocateur who believes in freedom and liberty for all Americans. As a passionate journalist, she works relentlessly to uncover the corruption happening in Washington, while exposing politicians and individuals who wish to do us harm.