Snowflake Teachers Reenact Confederate Statue destruction…Look What The Superintendent Responded
The education no longer is education… it's indoctrination. For so long, the teachers stopped being professional. They are not supposed to indoctrinate their political beliefs on their students. Unfortunately, that is what they do!
As a result of recent events of tearing down of Confederate statues in the name of racial equality, a group of teachers from a Durham public school decided to get involved in all that by taking a photo of themselves recreating the destruction of one of these statues.
In a statement issued Wednesday, the School's Superintendent Bert L'homme said the photo was taken after school hours. However, it does not reflect official Durham Public Schools positions.
"The Durham Public Schools Board of Education and I strongly support the free speech rights of DPS employees, as reflected in the Board's February 2016 resolution. The photo in question was taken August 23, after school hours, as part of the Durham Association of Educators's weekly 'Wear Red for Ed' advocacy."
Teachers at PUBLIC School of Creative studies in Durham 'recreate' toppling of statue outside Courthouse. #ncpolhttps://t.co/sZh1uXz1B6 pic.twitter.com/lzQGxcb2XQ

— A.P. Dillon (@APDillon_) August 30, 2017
The parents of the students condemn the picture and said that this kind of behavior from the teachers is inappropriate.
"Somebody needs to stand up and hold our teachers accountable for things that they're doing," one parent said. "They're entitled to their opinions, but their opinions don't have any place at school, whether schools in or schools out. That should've never been taken on school property. If it would've been taken elsewhere I wouldn't have said a thing."
It's frightening that school officials are allowed to promote this hate. Our children are in danger from the people who should be caring about them. This is yet another evidence that schools are turning our children into liberal zombies and are teaching them to destroy public property. How far is the leap to destroy personal property of those who they don't agree with?
These teachers are recreating an aggressive and unlawful act of vandalism and destruction of property and promoting and encouraging and condoning such actions with this photo! I am repulsed at the disgraceful show of ignorance displayed by the lack of decency and professionalism these individuals displayed. Truly an embarrassment to the educational field!
What do you think of this? Scroll down to leave a comment below!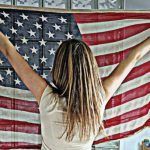 Natalie D. is an American conservative writer! Natalie has described herself as a polemicist who likes to "stir up the pot," and does not "pretend to be impartial or balanced, as broadcasters do," drawing criticism from the left, and sometimes from the right. As a passionate journalist, she works relentlessly to uncover the corruption happening in Washington.She is a "constitutional conservative".