Secretary Yellen Gives Away Biden's Huge Lie As He Laughs About IRS Going After Americans (Videos)
On Friday, Treasury Secretary Janet Yellen faced intense questioning from Representative Adrian Smith, a Republican from Nebraska who chairs the House Ways and Means Trade Subcommittee. During the hearing, Yellen made a surprising admission: that the vast majority of new audits by the Internal Revenue Service (IRS) would be focused on families and small businesses.
According to Yellen, "about 90 percent" of the new audits will target families and small businesses. This represents a significant shift in the IRS's priorities, which historically have focused on larger corporations and high-net-worth individuals.
Video below:
🚨🚨Secretary Yellen just admitted before @WaysandMeansGOP that 90% of new audits under the Inflation Act will be on families and small businesses, not "billionaires and tax cheats."

That is exactly why @HouseGOP passed my bill with @RepSteel to rescind this funding. ⤵️ pic.twitter.com/nqmslEo4t0

— Rep. Adrian Smith (@RepAdrianSmith) March 10, 2023
The news has raised concerns among many small business owners and families, who worry that they will be unfairly targeted by the IRS. Some critics have argued that the increased focus on audits could be seen as an attempt to generate revenue to help pay for President Biden's proposed infrastructure plan.
Meanwhile, let's listen to Joe Biden chuckle as he talks about who the IRS agents are going to be going after.
Video below:
"I don't know," Biden says about the Republicans objecting to this. "We just have a very different value set." You can say that again.
Despite Biden's "reassurances," many small business owners and families remain concerned about the increased focus on audits. Some have argued that the audits could be a burden on already struggling businesses and that they could lead to increased costs and bureaucracy.
As the IRS moves forward with its new audit plan, it will be important to strike a balance between ensuring that all taxpayers are paying their fair share of taxes, and avoiding unfairly burdening small businesses and families. Only time will tell how successful the IRS will be in achieving this balance.
OPINION: This article contains commentary which reflects the author's opinion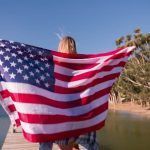 Michelle is American conservative author she is committed to the constitutional principles of individual freedom, economic liberty, limited government, personal responsibility, and traditional values. She is a libertarian and provocateur who believes in freedom and liberty for all Americans. As a passionate journalist, she works relentlessly to uncover the corruption happening in Washington, while exposing politicians and individuals who wish to do us harm.