Elvis Presley's Grandson Is All Grown Up…You Will be Amazed How Does He Look Today
The death of Elvis Presley 40 years ago was a shock to his fans. To date, many do not believe that the "king" really died 40 years ago. "The King" is gone, but he still lives. He is an inspiration not only for fans organized in clubs in 38 countries around the world and for music festivals but for the fashion industry as well.
Elvis was married to Priscilla Presley and they had one child together – Lisa Marie Presley, who has four children. Now, Elvis' only grandson Benjamin Keough is all grown up. And not only this. Lisa Marie Presley son Benjamin is the spitting image of grandpa Elvis Presley. You could almost be tricked into thinking that Elvis is still alive…
As you can see, the similarities between Benjamin and Elvis are incredible. Benjamin never followed in his grandfather's footsteps. Sadly, because of his sudden death, the King never got to meet his grandson.
In 2012, Lisa Marie Presley told CMT that she is sometimes 'overwhelmed' when she looks at Ben and sees her late father.
She said: "He does (look so much like Elvis)! He was at the Opry and was the quiet storm behind the stage. Everybody turned around and looked when he was over there. Everybody was grabbing him for a photo because it is just uncanny."
Elvis Presley was one of the most famous musicians of the 20th century. His name is immortalized in rockabilly, gospel, country music, as well as in rock and roll chambers across the globe. His popularity is not decreasing. So far, over a billion sound carriers have been sold with his music.
On August 16, 1977, at the age of 43, he died in his home in Memphis as a consequence of the overuse of various drugs. At his burial, there were 80,000 people.
He was a leading figure in the new rock and roll sound. His mode of performance and vigorous movements made him one of the most popular, but also the most controversial performers.
What do you think? Scroll down to leave a comment below!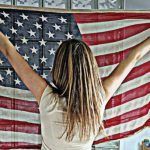 Natalie D. is an American conservative writer! Natalie has described herself as a polemicist who likes to "stir up the pot," and does not "pretend to be impartial or balanced, as broadcasters do," drawing criticism from the left, and sometimes from the right. As a passionate journalist, she works relentlessly to uncover the corruption happening in Washington.She is a "constitutional conservative".