Again, Doing What He Promised: Trump Signs Order To Reduce The Size Of the Federal Bureaucracy
For years I have heard people Democrats and Republicans talk about waste in our Federal Government. Then someone comes along that is willing to look into it and cut the waste.
On Monday Trump signed the Comprehensive Plan For Reorganizing The Executive Branch, an executive order meant to reduce waste by reorganizing the federal government. He called a "major step towards making the federal government efficient, effective and accountable."
Trump said the order empowers his Cabinets to revamp their departments.
"We have assembled one of the greatest Cabinets in history and I believe that so strongly," Trump said. "And we want to empower them to make their agencies as lean and effective as possible and they know how to do it. Today there is duplication and redundancy everywhere. Billions and billions of dollars are being wasted."
"This order requires a thorough examination of every executive department and agency to see where money is being wasted, how services can be improved and whether programs are truly serving American citizens."
"Based on this input, we will develop a detailed plan to make the federal government work better, reorganizing, consolidating and eliminating where necessary. In other words, making the federal government more efficient and very, very cost productive. So we're going to do something, I think, very, very special" –  Trump said.
[youtube https://www.youtube.com/watch?v=hjV2QXYzJRg]
He also said the Office of Management and Budget will oversee the evaluation and after the investigation is complete, he will work with Congress to implement the recommendations "on behalf of the American people."
Now, this is what we call productive government action at work!! This order will help to streamline the government to be much more efficient and less wasteful. It is a fact that our Federal budget has been out of control for too long.
Keep doing what you're doing President Trump! You are doing excellent job. It's time to take care of America "first". This step should have been done long ago.
Thanks to Trump the citizens will finally see action on the waste in every government agency!!!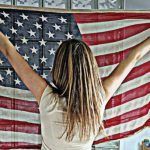 Natalie D. is an American conservative writer! Natalie has described herself as a polemicist who likes to "stir up the pot," and does not "pretend to be impartial or balanced, as broadcasters do," drawing criticism from the left, and sometimes from the right. As a passionate journalist, she works relentlessly to uncover the corruption happening in Washington.She is a "constitutional conservative".