Lowe's Fires Shot Heard Loud & Clear By Every Military Wife In America
I am sure we all share the same opinion: those who put their lives aside to defend our freedom deserve everything they can possibly get. American company Lowe's agrees. Lowe's has a reputation that cares for the customers especially for the member of our military. Now they released a new announcement that will help not only those in our military but their families as well.
The company will be expanding its military discount to include more members of the military as well as their family members. They offer an all day, every day 10 percent discount to all military personnel who are active, reserve, retired or disabled veterans and their family members. Great way to support our nation!
Megan Lewis, a Lowe's spokeswoman stated: "the discount is linked to a MyLowes account, which can be shared by a household. Once the service member signs up for the discount program, it will be linked to a MyLowes card that can also be used by their spouse."
She added: "The verification process is designed to be simplified one-time signup. Military and veteran customers can simply present their MyLowes card at checkout rather than show military credentials each time."
Lowe's will also no longer ask for proof of ID as they think that it gets in the way a lot of the time.
Veterans fought for and served this country… These courageous people above all else deserve to be recognized for defending our country. Lowe's did exactly that. They made one maybe small gesture, but big for the ones who keep this country safe.
A great way to say thank you for all that veterans did, for their selflessness and for their own sacrifice on behalf of our country. Lowe's commitment to our service members is definitely appreciated! Thank goodness some companies in America still support the right things!
I'm proud of them for stepping up for our military and veterans. I wish others would.
Share this article if you respect what Lowe's did for our military and their family members!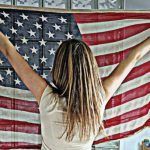 Natalie D. is an American conservative writer! Natalie has described herself as a polemicist who likes to "stir up the pot," and does not "pretend to be impartial or balanced, as broadcasters do," drawing criticism from the left, and sometimes from the right. As a passionate journalist, she works relentlessly to uncover the corruption happening in Washington.She is a "constitutional conservative".