Jim Brown Gives Kaepernick A Brutal Dose Of Reality… This Is Not What Kaepernick Supporters Want To Hear
What NFL Legend Jim Brown said on Thursday outside the pro-Kaepernick rally in New York City after he was asked about Kaepernick struggle to find a job is not something that Kaepernick supporters will not want to hear.
Brown who is one of the best running backs of all-time, said: "Colin has to make up his mind whether he's truly an activist or whether he's a football player."
He continued: "Football is commercial. You have owners, you have fans, and you want to honor that if you're making that kind of money You have to understand there's intelligence that's involved, OK? I can't be two things at once that contradict each other. If I sign for money, then the people I sign with, they have rules and regulations."
"I'm going to give you the real deal," he added. "I'm an American. I don't desecrate my flag and my national anthem. I'm not gonna do anything against the flag and the national anthem. I'm going to work within those situations. But this is my country, and I'll work out the problems, but I'll do it in an intelligent manner."
"If you have a cause, I think you should organize it, present it in a manner where it's not only you standing or sitting on one knee, but a lot of people that is gonna get behind each other and do something about it," Brown said. "If I ask you one question: Who is Colin calling on to follow what he's talking about?"
.@JimBrownNFL32 gives us the 'real deal' on @Kaepernick7, flag, anthem and being an activist. pic.twitter.com/MMcLX3dteb

— ThePostGame (@ThePostGame) August 24, 2017
That's right Jim Brown. If you take your platform to the right place if you are sincere you may get results. The workplace is NOT THE PLACE because you are taking advantage of someone else to try and accomplish your goal. But Kaepernick is too ignorant to realize the difference between his time and his EMPLOYER'S time. Any employee doing this would be fired long ago.
So this is a world of difference between a man of character (Brown) and Kaepernick! Brown is a true, hardcore football player but better yet a true fighter for equal rights. A patriot in all sense of the word.
Listen to the elders Kaepernick as they have the right and positive approach!!!
What do you think? Scroll down to leave a comment below!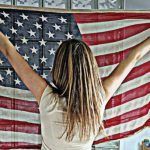 Natalie D. is an American conservative writer! Natalie has described herself as a polemicist who likes to "stir up the pot," and does not "pretend to be impartial or balanced, as broadcasters do," drawing criticism from the left, and sometimes from the right. As a passionate journalist, she works relentlessly to uncover the corruption happening in Washington.She is a "constitutional conservative".