Dallas Cowboys Star Has Perfect Reply For ESPN Host Who Pressured Him Into Boycotting National Anthem
America has had enough of these ridiculous NFL players who refuse to stand during the national anthem. Cowboys wide receiver Dez Bryant is doing what should be done. He refused to be another "self-entitled DIVA" player so he DID take a stand. He chose to play ball instead of politics.
Via The Wild Card: "To date, the Cowboys haven't had a player take a knee for the anthem — but the pressure being placed on stars like Bryant is growing by the day.
ESPN host Jemele Hill took a swipe at Bryant on Thursday when she criticized him for taking a stand against a local pizza restaurant — Bryant said he was boycotting it because its owner said he hated the Cowboys — but not against the NFL.
But won't take a stand against … nevermind .. https://t.co/KvL8RDLWJ5

— Jemele Hill (@jemelehill) August 24, 2017
Hill's tweet didn't sit well with Bryant, where he followed up with a brutal rebuke to those in the media criticizing him for using a different outlet than the one they prefer to make a difference in minority communities.
She part of the media.. 9-10x she will know the fact..instead ride the wave..it's not that serious..go boycott your job and tell me about it https://t.co/efwKWnjQ7P

— Dez Bryant (@DezBryant) August 24, 2017
What I understand…right or wrong everyone is entitled to their own opinion..being positive around other positive people create positive https://t.co/h08FWFk2L5

— Dez Bryant (@DezBryant) August 24, 2017
I've done a lot without the media…trust me I keep it coming..what I got planned for my hometown about to be amazing… https://t.co/cHuw9LDGAz

— Dez Bryant (@DezBryant) August 24, 2017
The three-time Pro Bowler made it clear following Thursday's practice that he wasn't opposed to players protesting the anthem, but that he preferred to lead by example.
.@DezBryant sets record straight on his stance regarding protests in the NFL: "I'm not criticizing nobody… I just want to lead by example" pic.twitter.com/qKyIwvcoFj

— Mike Leslie (@MikeLeslieWFAA) August 24, 2017
"I'm not criticizing anybody," Bryant said. "They're free to do whatever they want. Their beliefs [are] their beliefs and I'm not saying that it's wrong because they're feeling a certain way. They're supposed to."
He added, "I'm just saying I just want to lead by example — by doing positive [things]. I'm not saying what they're doing is wrong, but I have my own way of going about things. My whole thing about that whole situation, like, people think that I don't care … that's crazy."
Proud of Bryant for sticking up to what he believes. I don't care if they sit or stand. He should not be bullied for his decision – that's the point of our Constitution. Wish all professional football players had his work ethic.
But, shame on ESPN for pressuring a player to Protest the National Anthem because some other former players like Kaepernick started this whole thing. ESPN needs to either suspend or fire this reporter, for unjustly putting pressure on him to Protest the Flag and National Anthem. She is supposed to be reporting sports and not pressuring him to protest for political reasons.
What do you think? Scroll down to leave a comment below.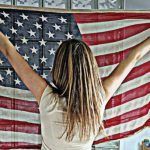 Natalie D. is an American conservative writer! Natalie has described herself as a polemicist who likes to "stir up the pot," and does not "pretend to be impartial or balanced, as broadcasters do," drawing criticism from the left, and sometimes from the right. As a passionate journalist, she works relentlessly to uncover the corruption happening in Washington.She is a "constitutional conservative".