UFC's 'Black Beast' Did Something Unexpected For A Man Carrying A Confederate Flag During Harvey (Video)
After the storm of "epic proportions" torn Texas, a lot of people and companies joined and did their best in an effort to help all these people in need. The proud Houstonian and UFC heavyweight star Derrick Lewis didn't turn his back and stepped in to help the community.
He stated, "I've always been that type of guy that I like to help people more than I like to help myself. And so I just seized the opportunity. The police, they kept getting on the news and saying that they're not going to help any one unless it's a life-or-death situation. Basically, the firefighters said the same thing."
It feels good to help people pic.twitter.com/RtyYIkdGor

— Derrick Lewis (@Thebeast_ufc) August 28, 2017
This good hearted man risked his life trying to help anyone in need, including one desperate man who would not leave without his Confederate flag despite the waters around him kept rising.
For MMAjunkie Lewis said: "I don't care about that. I live in Texas. It ain't nothing new. I've been living in the South all my life, and it ain't nothing I hadn't seen before or discussed. I don't care about that type of stuff. I just wanted to help him."
"I picked up one guy and his family, his wife – he just kept apologizing to me, because all he really had was his clothes, and he wanted to take his Confederate flag."
"He wanted to take that with him, and he just apologized and said, 'Man, I'll sit in the back of your truck, man. I don't want to have my flag inside of your truck like this.' I said, 'Man, I'm not worried about that,'" Lewis said.
"He's saying, 'You never know if you ever need someone, so …' – I already knew where he was going with it. I just said, 'Don't even worry about it. It's OK. I don't care about that.' His wife kept hitting him and saying, 'You should have just left it.'"

Even though liberals were working hard to divide our country by race we are united! This is as it should be! An American helping other Americans. This is what we are about! No politics! Just people of every race and creed helping each other. Bless them all.
This is what everyone should do. Come together and help one another. This is a time that we need to all unite together in whatever way that we can help. We are all Americans!
What do you think? Share this article if you liked "The Black Beast" gesture!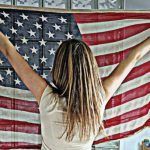 Natalie D. is an American conservative writer! Natalie has described herself as a polemicist who likes to "stir up the pot," and does not "pretend to be impartial or balanced, as broadcasters do," drawing criticism from the left, and sometimes from the right. As a passionate journalist, she works relentlessly to uncover the corruption happening in Washington.She is a "constitutional conservative".