Jill Gets Grilled For Her Fashion Blunder During Queen Elizabeth II's Funeral (Photos & Video)
President Joe Biden and his wife Jill have arrived at Westminster Abbey for Queen Elizabeth's funeral.
Biden, wearing a black suit and tie, was seen holding Jill's hand as they walked through the famous church to pay their respects to the monarch.
The President and First Lady traveled in his motorcade, known as the 'Beast', alongside five other security vehicles to be among the first world leaders to arrive at Westminster Abbey.
Westminster Abbey began filling up from 8am as the congregation arrived up to three hours early, with Biden and French President Emmanuel Macron being among world leaders who are paying their respects to the late monarch.
Huge crowds of mourners packed the procession route outside and tens of thousands more went to Windsor, where Her Majesty will be buried later today.
President Joe Biden and his wife Jill have arrived at Westminster Abbey for Queen Elizabeth's funeral and Jill once again made another fashion blunder.
She decided to wear a fascinator! At a funeral especially the funeral of the Queen you should wear a hat, Jill.
Photos below:
Video below:
The President of the United States, Joe Biden, and First Lady, Jill Biden, arrive at the State Funeral of Queen Elizabeth II.#queensfuneral #QueenElizabeth #QueenElizabethII #Queen pic.twitter.com/UQpLmtIXPx

— HRH Prince William, Prince Of Wales ➐ (@HRH_William_) September 19, 2022
The reactions on social media were not good and almost everyone considered this to be a huge blunder made by FLOTUS!
For a formal funeral, it's a firm NO to the: Small black feathery fascinator – perched on the head. Given the fact that she has a huge team around her, they should all know this!
Somebody tell Jill she should have respected the queen and Great Britain enough to wear a hat!

— Drdaugh (@Drdaugh1) September 19, 2022

Everyone misses the days of Melania when she represented our country in the best way possible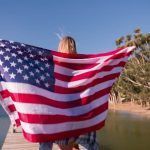 Michelle is American conservative author she is committed to the constitutional principles of individual freedom, economic liberty, limited government, personal responsibility, and traditional values. She is a libertarian and provocateur who believes in freedom and liberty for all Americans. As a passionate journalist, she works relentlessly to uncover the corruption happening in Washington, while exposing politicians and individuals who wish to do us harm.