Hollywood Celebrity Cher Insulted Melania And Barron Trump
Well like almost every celebrity around, Hollywood celebrity Cher went too far and made some stupid comments about President Trump and our firs lady Melania. Well, it seems that this was not enough so she decided to pick on Melania and Donald's son Barron Trump.
On Friday celebrity singer/actress Cher posted a tweet in the early morning hours, saying that the first lady always looks "sad" and "angry." She went on and write that Melania and President Trump "NEVER Smile or Exchange Little Looks On TV," and added that she even feels "bad."
What was even more disgusting about her tweet is the part where she questions President Trump's relationship with his son Barron by saying she's never seen the President "hug, give buggies, or play with his son."
Not 2🐝Mean🙏🏻but Melania Trump Always Looks SAD/Angry,Like She lost a Best Friend.They NEVER Smile or Exchange Little Looks On TV.I Feel Bad

— Cher (@cher) June 30, 2017
Please pardon me for a moment… When is that charter plane loaded with the "celebrities" that promised to leave America if Trump won the election scheduled to depart? Is there one more seat available for this "Diva"?
Cher should not judge others marriages when her own did not work out so well! Melania is a well educated, reserved women and Cher is a loud mouth, sensation seeking as always has been. That is why Cher's nasty tweet did not touch Melania at all as she boards Air Force one with President Trump and Barron to spend the 4th of July weekend in New Jersey.
However, it's a shame that nobody can respect the president of the United States and his wife and family. Dragging him through the dirt all the time shows how disgusting these Liberals are. In a numerous of interviews Melania has said that when they spend time together, they're very close and make the most of out of it.
What did you think of Cher's tweets? Share this post if you think that First Lady Melania is classier than the liberal celebrities.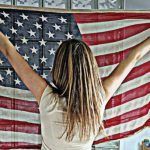 Natalie D. is an American conservative writer! Natalie has described herself as a polemicist who likes to "stir up the pot," and does not "pretend to be impartial or balanced, as broadcasters do," drawing criticism from the left, and sometimes from the right. As a passionate journalist, she works relentlessly to uncover the corruption happening in Washington.She is a "constitutional conservative".