Trump Meets Ryan Just Few Differences To Be Sorted Out Will This Affect The Election Results
Washington – House Speaker Paul Ryan on Saturday offered praise — but still no endorsement — for presumptive Republican nominee Donald Trump and said congressional GOP staffers will meet with aides to the billionaire next week to discuss policy.
"While we were honest about our few differences, we recognize that there are also many important areas of common ground," Trump and Ryan said in a joint statement. "We will be having additional discussions, but remain confident there's a great opportunity to unify our party and win this fall, and we are totally committed to working together to achieve that goal."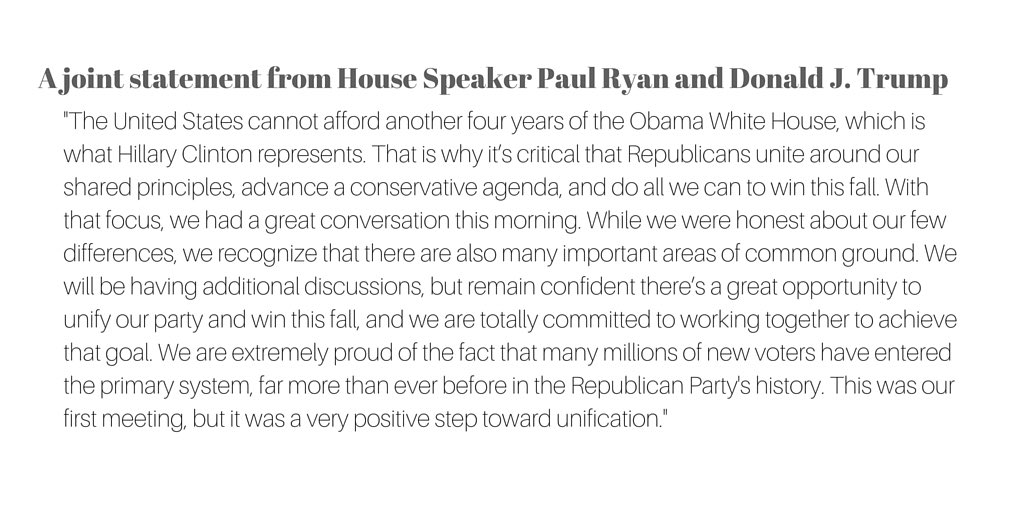 Ryan, speaking with reporters during his weekly press briefing, sought to portray his openness to Trump, despite withholding his endorsement.
"This is our first meeting, I was very encouraged with this meeting, but this is a process. It takes some time, you don't put it together in 45 minutes," he said.
The speaker called Trump's achievement of earning more votes than any Republican candidate in history "really kind of unparalleled," and clearly hopes to channel the support for the presumptive nominee into support for a conservative policy agenda writ large.
"The question is … how we unify it all? How do we keep adding and adding and adding voters while not subtracting any voters?" he said. "Most Americans do not like where this country is headed."
Trump tweeted his thoughts while his plane taxied on the runway before taking off for New York, "Great day in D.C. with @SpeakerRyan and Republican leadership. Things working out really well!"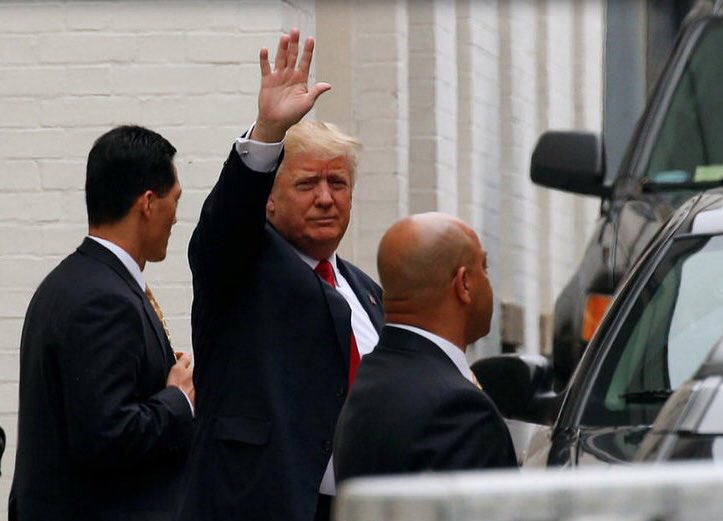 "I thought it was a great meeting," Trump said in a Thursday evening interview on Fox News with Sean Hannity.
Trump suggested the two sides would eventually come together.
"I don't mind going through a little bit of a slow process," Trump said. "We're getting there."
Ryan had sent shockwaves through the political establishment earlier this month when he told CNN's Jake Tapper that he was "just not ready" to endorse Trump.
At the time, Trump said he wasn't ready to "support Speaker Ryan's agenda," though in a joint statement following Thursday's meetings, the two men said they had taken "a very positive step toward unification."
"Our teams are meeting next week to go over the deeper meaning of the policies that we have been talking about that come from the principles we universally share as Republicans," Ryan told reporters late Saturday afternoon at the Wisconsin GOP convention in Green Bay.
He added, "It is no secret that Donald Trump and I have had some disagreements. It's no secret that we've, from time to time, clashed on an issue or two. That happens with people. That happens with Republicans."
Ryan continued, "The question is can we put together a process that really, actually gets our party unified so that we're at full strength in the fall, and based upon the meetings that we had on Thursday, I'm encouraged with the beginning of this process."
Ryan did not provide further details about next week's meeting, including when it would take place, who would be there and what would be discussed.
A message left with the Trump campaign was not immediately returned Saturday afternoon.
At the news conference in Green Bay, the speaker — who also did not provide a timeline on when he might endorse his party's new standard-bearer — praised Trump's achievement in securing the Republican nomination in this year presidential election .
"Donald Trump should be given a ton of credit for advancing and widening the playing field," Ryan said. "He is bringing new voters to the Republican Party by the millions and that's very impressive. What we want to make sure going forward is that we're doing nothing but adding voters to the Republican Party column, and not doing anything that subtracts voters going forward."
Ryan reiterated his belief that party unification would take time, especially following what he said was "one of the most divisive primaries of the modern era."
Alex D is a conservative journalist, who covers all issues of importance for conservatives. He brings attention and insight from what happens in the White House to the streets of American towns, because it all has an impact on our future, and the country left for our children. Exposing the truth is his ultimate goal, mixed with wit where it's appropriate, and feels that journalism shouldn't be censored. Join him & let's spread the good word!