Guns Save Lives – Doorbell Cam Captures The Moment This Man Outdraws And Shoots His Attacker
The freedom to carry a gun in this country is a privilege I refuse to take for granted. It is arguably one of the most valuable freedoms we have been blessed with in this nation, and I will defend it with every ounce of my being. Despite what we are being told by the media and the leaders of this country, one thing remains true: guns save lives.
From a young age, my parents taught my sisters and I the value of the Second Amendment and how to be responsible gun owners. When my mom's car was broken into while she was at work, I was never more grateful that she had her gun to protect her had the criminals still been in the parking garage when she got off work.
I am so grateful for the lessons my parents taught me regarding the Second Amendment. It showed me the importance of being able to protect myself and those that I love from those who would wish to do harm.
As a young woman, I don't think there are very many things more empowering than knowing I can protect myself and level the playing field against attackers who would most likely be much bigger and stronger than I am.
And let's not forget criminals that can came into you home armed and ready to kill you if needed.
Well, one video that arrived on my email this morning and had a tittle "Guns Save Lives", and it really shows why the second amendment is important.
Little is known about this video but the sender said that it's becomng viral on Reddit and Facebook. It is not yet known where this happened but the video depicts a man entering his apartment when he notices another man sneaking up behind him.
The man behind seems to be wearing a ski mask. As the man in the mask reaches for his weapon, the other man, whose weapon was already drawn, aims and shoots, hitting the suspect in the head.
WATCH (warning: graphic video)
Video below:
** (Disclaimer: This video content is intended for educational and informational purposes only) **
We will fill in the details once we have more info.
It is estimated that 1,029,615 individuals use guns every year in self-defense, excluding those in the police force and the military.
Of those people, 162,000 said they "almost certainly would have been killed" without their firearm to protect them.
To put it in perspective, the average homicide gun-related death per year is 11,208.
The right to self-defense in this nation should never be put in question. Guns save more lives than they take by a staggering amount.
Our nation does not have a gun problem. It has a heart problem. Without God, evil reigns. Whether guns are legal or not, those intent on harming others will find a way to do it. When have criminals ever obeyed the laws of the land?
OPINION: This article contains commentary which reflects the author's opinion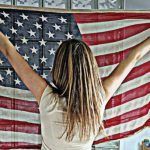 Natalie D. is an American conservative writer! Natalie has described herself as a polemicist who likes to "stir up the pot," and does not "pretend to be impartial or balanced, as broadcasters do," drawing criticism from the left, and sometimes from the right. As a passionate journalist, she works relentlessly to uncover the corruption happening in Washington.She is a "constitutional conservative".