Greenwald: "I Was Blown Away By Backlash From Trump Hollywood Star Tweet"
Liberals are the most disrespectful, hateful people! They don't practice what they used to preach, tolerance. They are now practicing what the Democratic leadership is all about really, violence against our President and anyone who supports him.
Makenna Greenwald, the young woman who took pictures of herself cleaning up President Trump's star on the Hollywood walk of fame, felt that on her own skin. Greenwald tweet about cleaning President Trump's star went viral, however, she was "blown away by how much disrespect" she received online.
On Fox News Monday, she said: "I think that we should have more respect from both sides of the aisle, and I was blown away by how much disrespect that I got, how rude people were to me, for a simple act of cleaning up our president, who is the highest office of the land. He should be respected, whether it's his Hollywood star or just talking about him in public."
Stopped to clean @realDonaldTrump Hollywood Star. Nothing but respect for MY President. #RaisedRight pic.twitter.com/jL4sqx4rlh

— Makenna (@makenna_mg) June 28, 2017
Makenna captioned her tweet: "Stopped to clean @realDonaldTrump Hollywood Star. Nothing but respect for MY president. #RaisedRight." She said President Trump's star was covered with Sharpie scribbles and that she removed it up with a makeup wipe from her purse.
Makenna also expressed her surprise that nobody before her did what she did. She said: "I was surprised that somebody hadn't done it before, but I guess that this happens a lot."
Liberals have no respect for themselves, so how can you expect them to have any for the anyone else. Ignorance doesn't become anyone no matter who you are.
Can you spot the difference in attitude and composure? Who seems mature? Who seems that could handle political conversation like an adult? pic.twitter.com/Vv8efeFhYf

— Brian is with an i (@youronlydad) June 30, 2017
Left attacking someone for doing something nice show just how much danger our country is in. If we allow the Left to control us we have lost. They talk about political correctness but if someone disagrees with them they only know how to respond with hate and violence. We have to stand strong
Thank you, Makenna, for being an example of how respect for the President matters.
Scroll down to leave a comment below!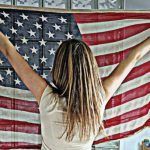 Natalie D. is an American conservative writer! Natalie has described herself as a polemicist who likes to "stir up the pot," and does not "pretend to be impartial or balanced, as broadcasters do," drawing criticism from the left, and sometimes from the right. As a passionate journalist, she works relentlessly to uncover the corruption happening in Washington.She is a "constitutional conservative".