Elizabeth Warren's GOP Opponent Sends Her A Perfect Birthday Present
Elizabeth Warren lied about the Indian heritage and was exposed. She has not the character to be a Senator or anything in government.
Now, Warren, who turned 68 in June, refused to take a birthday gift given to her by Indian-American entrepreneur V.A. Shiva Ayyadurai, who's running against her for her U.S. Senate seat.
We can all agree that Ayyadurai has a great sense of humor. He mailed a DNA test to Senator Warren and then posted hilarious screenshots of a DNA test kit he purchased online as a birthday gift for Warren.
On the gift message, Ayyadurai wrote: "Dearest Elizabeth. Happy Birthday. As a wise man once said: To Thy Own Self-be True. So what better gift than this to know WHO YOU truly are. Enjoy."
I'm deeply saddened @SenWarren refused my thoughtful (gift-wrapped) Birthday Gift: the 23&me DNA Test Kit. Most unfortunate! #FakeIndian pic.twitter.com/BI7F20wDW8

— V.A. SHIVA (@va_shiva) July 2, 2017
//platform.instagram.com/en_US/embeds.js
Ayyadurai is running under the slogan: "Only a real Indian can defeat the fake Indian."
Apparently, Warren is not amused. Me, on the other hand, thought it was pretty funny.
This is proof that Ayyadurai is very intelligent and he will serve his constituents and our country well and with honor and integrity. The above are qualities that are lacking in Elizabeth Warren. If she lied about being of American Indian Heritage she has most likely lied about many things and will continue to do so. She insults American Indians and Americans by claiming to be something she simply is not.
Still, it is so satisfying to see all these Democrats getting a taste of their own medicine…They use attack tactics to silence their opposition, but they have no idea how do deal with it when it's their turn.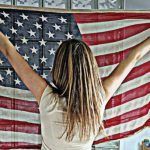 Natalie D. is an American conservative writer! Natalie has described herself as a polemicist who likes to "stir up the pot," and does not "pretend to be impartial or balanced, as broadcasters do," drawing criticism from the left, and sometimes from the right. As a passionate journalist, she works relentlessly to uncover the corruption happening in Washington.She is a "constitutional conservative".