Melania Trump Posts Powerful Independence Day Message
We have been blessed to have many beautiful, smart, and talented First Ladies. She is proven to be a very kind person and her latest actions are just a confirmation of her kindness! But sadly, just like President Trump, Melania is not immune to the disgusting low attacks by leftists and the media.
They are the enemy of Trump and his family. If there was something bad about them no matter true or false, the mainstream media would be all over it.
Melania too has been attacked multiple times and for multiple reasons…some of them are not even worth mentioning. But today, on the greatest American holiday, she posted a message of Independence Day with which no one can possibly disagree.
Melania wrote: "We are the land of the free because of the brave. Thank you to the heroes who serve!"
#HappyIndependenceDay 🇺🇸
We are the land of the free because of the brave. Thank you to the heroes who serve!

— Melania Trump (@FLOTUS) July 4, 2017
Wonderful message! So proud of our First Lady. It's called class and gratitude, something the progressive trolls have no clue.
Our First Lady is the epitome of grace and kindness. How wonderful to have her as an example for young girls of the United States.
The Trump Family in our White House brings class, dignity, respect, and honor to America. Both, President Trump and First Lady are making us proud to be Americans!
This sums it up.
God Bless America, President and Mrs. Trump for their courage to stand up for what is right! And God Bless all Americans, especially those who served this country in war and in peace. Happy Birthday, America!
Share this and scroll down to leave a comment below!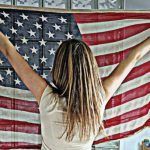 Natalie D. is an American conservative writer! Natalie has described herself as a polemicist who likes to "stir up the pot," and does not "pretend to be impartial or balanced, as broadcasters do," drawing criticism from the left, and sometimes from the right. As a passionate journalist, she works relentlessly to uncover the corruption happening in Washington.She is a "constitutional conservative".