GOOD!!! Gov. Abbott Will Sign Legislation That Could Put Sheriffs Of Sanctuary Cities In Jail
Law enforcement officers that don't uphold written laws should be fired. Law enforcement officers that refuse to uphold written laws should be prosecuted and jailed.
Texas Gov. Greg Abbott made that clear during a Wednesday interview on "America Talks Live with Newsmax host Steve Malzberg, when he told that the federal crackdown on sanctuary cities is a strong move in helping correct the nation's illegal immigration problem, one he's already implemented on the state level in Texas — and he plans on signing into law a piece pf legislation that could put sheriffs of sanctuary cities in jail.
He said: "It's a two step-process. As governor, I could unilaterally use my office to take funds away from Travis County that have been previously granted to them," … "We defund them to the tune of more than $1.5 million."
Abbott said that he is also pushing legislation that will impose fines and possibly jail sheriffs who don't enforce the immigration statutes.
He said: "In addition to that, we have been pushing a piece of legislation in Texas that will pass, that I will be signing into law, that imposes even sterner penalties on counties."
[youtube https://www.youtube.com/watch?v=aKhafJbfDgo]
"It will include things such as defunding them. It will impose fines, and it could impose jail time for the sheriffs to enforce the laws. Oddly enough, these sheriffs could wind up behind the very bars they are releasing these criminals from," Abbott said.
GOOD GOING Governor Abbott. Standing up for justice!! There needs to be more "REAL AMERICANS" like you that are willing to stand up for America! Keep up the good work!
Now we need to get the other 49 states in line with Texas! Revoke the grants and prosecute the cops who break the law.  If a police officer continuously ignored the law that officer would be fired and possibly jailed.
These are laws on the books and need to be followed.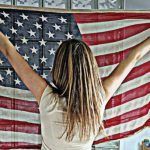 Natalie D. is an American conservative writer! Natalie has described herself as a polemicist who likes to "stir up the pot," and does not "pretend to be impartial or balanced, as broadcasters do," drawing criticism from the left, and sometimes from the right. As a passionate journalist, she works relentlessly to uncover the corruption happening in Washington.She is a "constitutional conservative".