Good News! Three Democrat Senators Announced Support For Judge Gorsuch!!
Judge Neil Gorsuch is a good man with a perfect record. Any vote against him will be strictly partisan politics.
Senate Majority Leader Mitch McConnell (R-KY) said on Fox News Sunday that President Donald Trump's Supreme Court nominee Judge Neil Gorsuch will be confirmed this week.
McConnell said: "Judge Gorsuch deserves to be confirmed. Unanimously well-qualified by the American Bar Association, my counterpart, Sen. Schumer, once called that the gold standard."
He continued, "I think it is noteworthy that no Supreme Court justice has ever, in the history of our country, been stopped by a partisan filibuster — ever."
He added: "We're going to confirm Judge Gorsuch this week. The way in which that occurs is in the hands of the Democratic minority."
Finally some common sense!!! On Sunday Indiana Sen. Joe Donnelly announced that he will vote for Neil Gorsuch for the Supreme Court. With this, he became the third Democrat to back the Trump nominee.
Sen Donnelly said in a statement: "After meeting with Judge Gorsuch, conducting a thorough review of his record, and closely following his hearing before the Senate Judiciary Committee, I believe that he is a qualified jurist who will base his decisions on his understanding of the law and is well-respected among his peers."
Earlier, West Virginia Sen. Joe Manchin and North Dakota Sen. Heidi Heitkamp, have announced that they plan to vote for Gorsuch.
How can they deny him…he is a really sound choice for this nation no matter what party you associate with!!!
With this trio of Democrats, Republicans, who have 52 seats in the Senate, will need five more votes to block a planned filibuster of Gorsuch. Eight Democrats and one Independent, Maine Sen. Angus King, still need to announce  will they support or oppose Gorsuch, who currently serves as a judge on the 10th Circuit of the U.S. Court of Appeals."
55 and counting. Love to think that some of the Democrats are able to think for themselves and do what is right for the American people.
Maybe there still are Democrats who are very decent people with common sense and who are sick of the schemers and Pelosi destroying their party.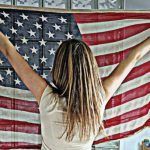 Natalie D. is an American conservative writer! Natalie has described herself as a polemicist who likes to "stir up the pot," and does not "pretend to be impartial or balanced, as broadcasters do," drawing criticism from the left, and sometimes from the right. As a passionate journalist, she works relentlessly to uncover the corruption happening in Washington.She is a "constitutional conservative".