Video: Woke White Democrats Assault A Latino Reporter For Confronting Gubernatorial Candidate About Her Past Convicted Discrimination Against Black People
Drew Hernandez confronted Arizona gubernatorial candidate Katie Hobbs over her alleged history of discrimination, was assaulted and forcefully escorted from the campaign event.
As Jack Posobiec reported the Latino reporter was attacked by white Democrats and even received some racist remarks as well as physical confrontation from a man who looked like Walter White.
The TPUSA contributor attended the Unite for Arizona even, hosted by the Arizona Democratic Party, and asked Hobbs about her having fired a black senate staffer in 2015. Hobbs did not answer, the crowd shouted him down, and security told him to "knock it off" as they kicked him out.
"What about discriminating against black people?" Hernandez asked Hobbs, to boos from the crowd.
"You discriminated against black people!" He called out. "Why don't you tell the people what you did?"
The crowd took up chants of "Katie, Katie," to try to drown Hernandez out.
"You have been convicted racist, Katie!" Hernandez called out.
At this point, security, in the form of a few white men, grabbed Hernandez and escorted him forcefully from the room.
"Democrats of Arizona kicking out a Latino?" Hernandez said. "Kicking out a person of color?"
Hernandez turned back to the men, saying "check your white privilege, buddy. Are the Democrats of Arizona kicking out a person of color?"
"Knock it off," one of the security detail says, pushing Hernandez from the room.
Hernandez remained incredulous. "Arizona Democrats kicking out a person of color?" He shouted. "Katie is a racist!"
He wrote this on Twitter but his account is locked at the moment:
BREAKING: Today I confronted Katie Hobbs (D) who is running for governor of AZ about her past convicted discrimination against black people, the Woke White Democrats of Arizona then deport me, a brown Latino man, out of their event for asking such a question
Luckily we downloaded the video:
The racist Democrat that attacked him looks like Breaking Bad star:
. @DrewHLive found Walter White pic.twitter.com/ntixukmQkJ

— Jack Posobiec 🇺🇸 (@JackPosobiec) August 28, 2022
The event was open to the public:
It was open to the public.

— Dave ⚡️ (@Docsbelief) August 28, 2022
Many people reacted online about this incident:
Battery against a person of color, the guy pushing him out said he wasn't black. So weird, didn't realize Hispanic's weren't minorities 🤷🏻‍♀️

— 𝕊𝕦𝕞𝕞𝕖𝕣 𝕆𝕗 𝕃𝕠𝕧𝕖 👩🏻‍🌾☀🐓🍊 (@azinthegarden) August 28, 2022
Wait, is the story about battery against a heckler by union supporters or that Hobbes' race problems are a non-issue for her other supporters?

— TheLegalProcess (@ALegalProcess) August 28, 2022
Katie Hobbs defended her role in firing policy adviser Talonya Adams from the Senate in 2015, saying the termination was for performance and other issues, not because of her race or gender.
Speaking publicly for the first time since federal jury found that the Senate fired Adams was for complaining about discriminatory pay, which a previous jury concluded was low because she's a Black woman.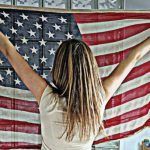 Natalie D. is an American conservative writer! Natalie has described herself as a polemicist who likes to "stir up the pot," and does not "pretend to be impartial or balanced, as broadcasters do," drawing criticism from the left, and sometimes from the right. As a passionate journalist, she works relentlessly to uncover the corruption happening in Washington.She is a "constitutional conservative".