Armored Car Hits Crowd Of Protesters In Venezuela (VIDEO)
Nowadays blocking the roads and illegally detain others in order to prove something seems to become some kind of trend. Unfortunately for the protestors, they slowly realize that their actions have consequences… and the consequences are sometimes painfull.
On Wednesday protesters who were blocking a road in Caracas, Venezuela had a huge surprise when an armored National Guard truck hit right through the crowd of demonstrators after a firebomb was thrown at it. The protesters had been warned to move away, but when they refused, the truck plowed.
The Venezuelan opposition leaders have vowed to stay in the streets after President Nicolas Maduro announced on Monday that he was creating the "constituent assembly" which is empowered to rewrite the constitution. Hundreds of thousands have taken to the streets to protest what they say is a plummet into autocracy.
Opposition sources also reported injuries that included 134 traumas and 17 cases of people overcome by gas. They also claimed that during the protest over 300 people were wounded from clashes throughout the day.
Lawmakers Freddy Guevara and Julio Montoya were also injured during the protest. Guevara is the acting leader of the Popular Will opposition party, acting for Leopoldo López, who is serving a 14-year prison sentence for organizing peaceful protests in 2014.
The government has denied reports that López is in critical condition at a hospital, but has refused to allow his wife or attorneys to see him.
[youtube https://www.youtube.com/watch?v=4xrwFdW77uc]
Sadly, one 17-year-old protester died in the melee from an object that hit him in the neck, Gerardo Blyde, a district mayor for the opposition said.
"A young man with all his life ahead. He simply fought for a better country," Blyde said on Twitter of the case which the Venezuelan state prosecutor's office said it would investigate.
It is happening in other countries! These people need to quit putting their life in jeopardy! There are consequences for your actions and YOU have the ability to do something about! Senseless death and injuries!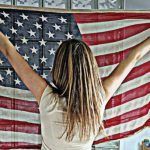 Natalie D. is an American conservative writer! Natalie has described herself as a polemicist who likes to "stir up the pot," and does not "pretend to be impartial or balanced, as broadcasters do," drawing criticism from the left, and sometimes from the right. As a passionate journalist, she works relentlessly to uncover the corruption happening in Washington.She is a "constitutional conservative".