Trump Is Winning Again! Illegal Border Crossings Dropped As A Result Of Trump's New Executive Order
On Wednesday, Homeland Security Secretary John Kelly said that the number of people illegally crossing the U.S. southern border has dropped 40 percent in President Trump's first full month in office.
"The drop in apprehensions shows a marked change in trends," Kelly said. "Since the administration's implementation of executive orders to enforce immigration laws, apprehensions and inadmissible activity is trending toward the lowest monthly total in at least the last five years."
"This change in the trend line is especially significant because CBP historically sees a 10-20 percent increase in apprehensions of illegal immigrants from January to February," the agency said in a statement. "Instead, this year we saw a drop from 31,578 to 18,762 persons — a 40 percent decline."
This is a wonderful start!! And another great day in the USA!!
"This trend is encouraging because it means many fewer people are putting themselves and their families at risk of exploitation, assault, and injury by human traffickers and the physical dangers of the treacherous journey north," the statement continued.
President Trump's tough stance on illegal immigration showed to be very effective. Trump hit the ground running on illegal immigration when he first took office, signing an executive order that authorized the construction of a border wall and increased border security.
"We will remain vigilant to respond to any changes in these trends, as numbers of illegal crossings typically increase between March and May," Kelly said. "However, the early results show that enforcement matters, deterrence matters, and that comprehensive immigration enforcement can make an impact."
One of the most effective things our government can do- and should have done long ago, but we only now have the leadership to make it happen– is eliminate all entitlements illegal aliens are receiving. That includes healthcare, housing, and schooling.
We have essentially been paying them to invade our nation.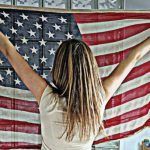 Natalie D. is an American conservative writer! Natalie has described herself as a polemicist who likes to "stir up the pot," and does not "pretend to be impartial or balanced, as broadcasters do," drawing criticism from the left, and sometimes from the right. As a passionate journalist, she works relentlessly to uncover the corruption happening in Washington.She is a "constitutional conservative".