Watch: President Trump Make 11-Years-Old Boy's Dream Come True (VIDEO)
11-year-old Frank Frank Giaccio from Falls Church, Virginia, had a special opportunity on Friday morning to meet president Trump after he was granted permission to mow the grass in the Rose Garden with supervision from park service employees. Giaccio wrote a letter to Trump last month in which he noted his admiration of Trump's business prowess, pointing out that he'd started a lawn-mowing business of his own. He said it would be his "honor to mow the White House lawn some weekend" free of charge, an offer Trump officially accepted this week.
On Wednesday White House press secretary Sarah Sanders announced that Frank got the job, and would assist "the grounds-keeping crew here at the White House and will help cut the grass in the Rose Garden."
Frank is hard at work in the Rose Garden and doing a great job! pic.twitter.com/u4f2DtLvu6

— Sarah Sanders (@PressSec) September 15, 2017
Trump came out to greet Frank while he worked and asked Frank what he would like to do when he grows up. He replied that he wants to be a Navy SEAL.
"Well, he'll make it, there's no doubt about it," Trump said. "That's a good choice."
Trump went on to say that Frank "will be very famous, he's going to be a Navy SEAL someday, he's going to great things for our country."
Trump called Frank's work "perfect" and offered to bring him into the Oval Office. "Maybe he'll be president," Trump said.
.@POTUS stopped by to thank Frank for his hard work. H/t @NatlParkService for making Frank's dream of mowing the @WhiteHouse lawn come true! pic.twitter.com/WYvOFbkGsn

— Natalie Strom (@NStrom45) September 15, 2017
Now that's how the White House is supposed to be run…reaching out to normal Americans, making a child's dream happen…all good moves Mr. President that brings you closer to we the people. Love it! This young man had a day he will never forget!
What do you think? Scroll down to leave a comment below!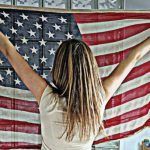 Natalie D. is an American conservative writer! Natalie has described herself as a polemicist who likes to "stir up the pot," and does not "pretend to be impartial or balanced, as broadcasters do," drawing criticism from the left, and sometimes from the right. As a passionate journalist, she works relentlessly to uncover the corruption happening in Washington.She is a "constitutional conservative".