Watch! 8-Year-Old Cahokia Football Players Performed Disgusting Attack Towards Our Country And Our Flag Under Guidance Of Coach
Not standing for the national anthem is a sign of disrespect towards our country! Unfortunately, it seems that not standing for the national anthem became some kind of a trend. National-anthem protests have spread beyond the NFL and onto the sidelines at school athletic events recently.
On Sunday's game at Little Devil's Field in Belleville, while the national anthem played, the whole Cahokia Quarterback Club football team knee. What is even more terrifying of this whole situation is the fact that the players of this team are boys at the age of 8 and under.
Coach Orlando Gooden said: "One of the kids asked me if I saw (people) protesting and rioting in St. Louis. I said yes; I said, 'Do you know why they are doing it?'"
The response of his player was: "Because black people are getting killed and nobody's going to jail."
Gooden, who played football at Mizzou, said the kids knew about the Jason Stockley decision.
Coaches not only teach kids how to play football but should also impart morals, decency, character, and respect for our country and its institutions.
He said: "I felt like it was a good teaching moment for me to circle the team and have a meeting."
So, the coach took the opportunity to educate the kids about getting a good education and staying away from a dead-end life of crime, and also explained why former NFL quarterback Colin Kaepernick started kneeling during the anthem.
This is a serious problem in our socialist/communist educational system. Our kids are being indoctrinated by biased, racist, communist teachers.
What business does an 8-year-old have to disrespect the USA? Somebody poisoned their little minds!
I don't think they really understand what they are doing. I think they are mimicking the overpaid, self-important and so-called entitled professional football players. This is disgusting. This is what the NFL is teaching them.
What do you think? Scroll down to leave a comment below!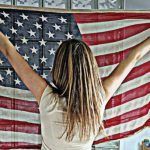 Natalie D. is an American conservative writer! Natalie has described herself as a polemicist who likes to "stir up the pot," and does not "pretend to be impartial or balanced, as broadcasters do," drawing criticism from the left, and sometimes from the right. As a passionate journalist, she works relentlessly to uncover the corruption happening in Washington.She is a "constitutional conservative".