The View Went Too Far With The Sexual Comments About Donald And Melania
The only thing The View show does is constantly creating turmoil and fuel fear in the people. We are getting used to the hate that The View show hosts keep spewing every day. But what was just said about Donald Trump was so vile, that will make your jaw fall out!
Joy Behar did something shameful and pathetic when she attempted to spread unsubstantiated gossip regarding the mental health of President Trump. She then did something that nobody expected: she speculated about Donald and Melania Trump's sex life.
She said: "He's losing it, and we'll all see soon, it's going to all be over."
"You're not being funny about that, you actually do think he's losing it," Jedediah Bila asked.
Behar agreed with Bila and said: "I think he's losing it. I think he has short-term memory loss, I think he maybe has a touch of dementia maybe, I don't know. Something's wrong with him. Something's wrong, I don't know what it is."
Bila suggested: "It could be the sleep and also, that he didn't realize this job was going to be what it was. I always say that he didn't want this job. He didn't want this job."
Now sounding more and more like a soothsayer Bila proclaims; "He wanted the fame. He wanted the fame that came with it, he thought it would boost his popularity but he was not prepared for this."
At this point, Behar pushed it too far saying: "It's also possible that Melania is living in New York most of the time. And he's in Mar-a-Lago, and you know sometimes sex puts you to sleep. He ain't getting any of that."
With this, they only continue proving what insane lunatics they are, and that the people should not watch them at all. Why watch someone when the hosts of the show are total nutball liberal wackos who know nothing about anything.
They are perverted repulsive people that will say and do anything to degrade people that don't agree with their sickness. This is why the show needs to be shut down!
What do you think did she cross the line this time? Share this article if you want to express your dissatisfaction with the show!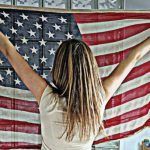 Natalie D. is an American conservative writer! Natalie has described herself as a polemicist who likes to "stir up the pot," and does not "pretend to be impartial or balanced, as broadcasters do," drawing criticism from the left, and sometimes from the right. As a passionate journalist, she works relentlessly to uncover the corruption happening in Washington.She is a "constitutional conservative".