Video: 23-year-old Trump Supporter Was Subdued By A Group Of Protestors And Had His MAGA Hat Snatched Off Of His Head – He Gave Them The Perfect Second Amendment Response
OÑATE STATUE—23-year-old Ryan Martinez was subdued by a group of protestors and had his MAGA hat snatched off of his head.
Martinez then drew a semi automatic handgun and shot one of the protestors.
Video below:

Authorities arrested Martinez a short time later.
Martinez is being held without bond on charges of attempted murder and aggravated assault with the use of a deadly weapon.
Update:
Activists held banners reading "Do Not! Resurrect Oñate." They broke out into chants of "Land Back." And several, including Jennifer Marley of San Ildefonso Pueblo gave speeches with a wired microphone denouncing colonialism.
They were there to celebrate Rio Arriba County officials' decision to postpone plans to relocate a controversial statue of conquistador Juan de Oñate just outside the County Annex building Thursday morning in Española.
But as Marley, an organizer for the Native American advocacy group The Red Nation, continued to speak, a scuffle broke out behind the people watching her. Someone called for all the children attending the rally to gather in the middle for their protection.
Several men were grappling with another man, wearing a red "Make America Great Again" hat, who activists later said was trying to make his way to an altar set up on a pedestal where the Oñate was to be erected. Authorities later identified the man as 23-year-old Ryan Martinez of Sandia Park.
As people watching the scuffle yelled at the men to stop, Martinez broke free, hopped over a half-wall, pulled a handgun from his waistband and fired one shot, hitting a Native American man in the torso. Onlookers screamed and sprinted in the other direction.
Authorities have not yet publicly identified the man who was shot, but he was whisked away in an ambulance. Three Sisters Collective co-founder Christina Castro, a friend of the man who was shot, said later Thursday afternoon that he'd been taken to University of New Mexico Hospital to remove the bullet and was in stable condition.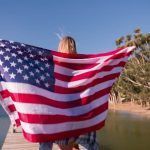 Michelle is American conservative author she is committed to the constitutional principles of individual freedom, economic liberty, limited government, personal responsibility, and traditional values. She is a libertarian and provocateur who believes in freedom and liberty for all Americans. As a passionate journalist, she works relentlessly to uncover the corruption happening in Washington, while exposing politicians and individuals who wish to do us harm.