UN Ambassador Nikki Haley: It Is A New Day For Israel In The United Nations
What UN Ambassador Nikki Haley has done at the U.N. is a continuation of an unbroken string of strong moral conviction and service. It's such a wonderful affirmation that such people do exist among us. On Wednesday, during her trip to Israel this week Nikki Haley called the global body a "bully" – and reassured Israeli leaders that it was a "new day" for Israel.
She said to Israeli President Reuven Rivlin: "I have never taken kindly to bullies, and the UN has bullied Israel for a very long time."
"We are not going to let that happen anymore. It is a new day for Israel in the United Nations," she added.
President Rivlin thanked Haley for her protection of Israel, saying it marked a "new era."
He said: "We appreciate your strong stand on the world's most important stage, in support of the security of the people and the State of Israel. Israel is no longer alone at the UN. Israel is no longer the UN's punching bag."
In a previous meeting, Prime Minister Benjamin Netanyahu welcomed Haley in his office on Wednesday morning and thanked the US envoy and US President Donald Trump for their staunch support of Israel, including in international bodies such as the UN.
Netanyahu said: "Thank you for all your help and standing up for Israel, standing up for the truth, which is standing up for America. Actually, I think it's standing up for the UN as it was originally conceived. People appreciate the truth. We have an ancient Hebrew saying that when somebody tells a truth, you can feel it. So people feel it, they not only understand it, they feel it. And we feel it."
He added: "President Trump and you, I think, have changed the discourse, have drawn new standards, and everybody's taking up, and that's great. I think it makes a world of difference, both for Israel and the US. Again, I felt that the UN would collapse, you know, that whole scaffolding of lies would just collapse. I think you've put in that simple word, truth."
Thank you, Nikki Haley, for giving Israel the best gift that anyone could give them! Of course, the USA should support Israel!! Finally, someone in the white house is willing to stand up for Israel.
What do you think! Do Israel deserves our support? Scroll down to leave a comment below.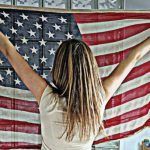 Natalie D. is an American conservative writer! Natalie has described herself as a polemicist who likes to "stir up the pot," and does not "pretend to be impartial or balanced, as broadcasters do," drawing criticism from the left, and sometimes from the right. As a passionate journalist, she works relentlessly to uncover the corruption happening in Washington.She is a "constitutional conservative".