4-Year-Old Texas Boy Dies Of Rare "Dry Drowning" Case
After getting out of a pool or body of water, a child can seem fine after. However, if he starts to have trouble breathing an hour, or up to 24 hours later, or is experiencing other symptoms such as vomiting, fatigue, diarrhea parents must get the facts they need to prevent something terrible to happen.
Unfortunately, a 4-year-old boy Francisco (Frankie) Delgado III from Texas, drowned nearly a week after he and his whole family went swimming over Memorial Day weekend.
The young boy died of so-called "dry drowning." Apparently, if a child swallows water while swimming, they are at risk of "dry drowning." That is why it is so important for parents to watch for crucial signs of the children's condition such as vomiting, coughing, and difficulty breathing.
Little Frankie Delgado's father Francisco Delgado Jr, told that during a Memorial Day weekend trip his son was playing in knee-deep water when a big wave knocked him over and his head went under. However, a family friend picked him up, and Frankie said he was OK.
But, the next night, Frankie started vomiting and had diarrhea so his parents took him to the doctor, where they've been told that the boy has a stomach bug. Sadly, the boy died on Saturday at East Houston Regional hospital, nearly a week after he went swimming.
"Out of nowhere he just woke up. He said ahhhh," his father, Francisco Delgado Jr., told KTRK. "He took his last breath and I didn't know what to do no more.
While the official cause of death is still pending, doctors told Frankie's parents their son had fluid in his lungs and around his heart. They said he died from not so common condition some officials call "dry drowning." Francisco's parents are now trying to prevent other children from suffering the same fate. They are urging other parents to pay close attention to their children, even after they've left the water and the swimsuit comes off.
So sad and tragic that this family lost their little boy. I am truly sorry. Nothing is worse than losing a child.
God bless and may he give the family the strength to get through the extremely difficult days ahead.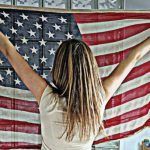 Natalie D. is an American conservative writer! Natalie has described herself as a polemicist who likes to "stir up the pot," and does not "pretend to be impartial or balanced, as broadcasters do," drawing criticism from the left, and sometimes from the right. As a passionate journalist, she works relentlessly to uncover the corruption happening in Washington.She is a "constitutional conservative".