Shame! Oregon Judge Allegedly Helped an Undocumented Immigrant Escape ICE Agents
Judge Monica Herranz in Oregon could be in huge trouble after she allegedly helped an illegal immigrant use her private entrance to avoid being captured by federal agents. Because of this, she is now facing a DOJ investigation for obstruction of justice.
Willamette Week reported that "this case happened in January at the Multnomah County Courthouse in Oregon, where 22-year-old Diddier Pacheco Salazar was set to plead guilty to two charges in connection with a January 1 DUI arrest. On January 27, Pacheco pleaded guilty to one count of driving recklessly and one count of driving under the influence of intoxicants."
"Two days earlier, Trump had signed executive orders starting the construction of a border wall with Mexico, stepping up deportations of undocumented immigrants, and declaring that "sanctuary jurisdictions" such as Portland could lose federal grant funding. Reports spread of increased activity by plainclothes ICE officers in and around the Multnomah County Courthouse."
"The getaway didn't ultimately keep the man from being snared by immigration officials after pleading guilty to a DUII. But it demonstrates how everyday court proceedings have mutated, and how tensions have grown within the criminal justice system, as ICE steps up deportations under President Donald Trump."
Salazar lawyer – John Schlosser also said that they both knew that ICE agents were waiting outside the courtroom of the Justice Center at 1120 SW 3rd Ave, and knew there are huge chances Pacheco Salazar might be deported before he could face justice.
Schlosser- "I prepped my client. I said, 'I don't know if they're going to pick you up outside or what, but here's how to prepare,"
"After the court appearance, I went out in the hallway and sat. My client never came out. I can't say that I'm surprised he didn't come out, but I gave him his options, and assume he had to have been escorted out some other way.
It's a shame…the one person who is suppose to follow the law fails to do so.
If this judge helped that illegal she is guilty of a Felony Violation under 8 US Code 1324, Sections A-H. That makes it a felony to assist an illegal and facilitate travel or movement. It carries a $5000 fine and up to 5 years in jail.

With her actions, this judge is putting us all in danger! That's why she should be immediately removed from the bench.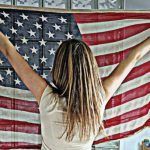 Natalie D. is an American conservative writer! Natalie has described herself as a polemicist who likes to "stir up the pot," and does not "pretend to be impartial or balanced, as broadcasters do," drawing criticism from the left, and sometimes from the right. As a passionate journalist, she works relentlessly to uncover the corruption happening in Washington.She is a "constitutional conservative".