Sergeant Jessie Jane Duff Has Great Response To Warren Questioning MOAB Strategy!
Rather than allowing the military to go do its job, some in Congress are upset that they are not calling the shots. They shouldn't. It is not their job.
After President Donald Trump dropped the "Mother of all Bombs" on ISIS terrorists in Afghanistan, Sen. Elizabeth Warren (D-Mass.) demanded to know President Donald Trump's "strategy" behind the move.
Warren told reporters Thursday night after a town hall event with constituents in Massachusetts: "As is the case with every part of Trump's foreign policy, we are all trying to understand: What is the strategy?"
She also asked Trump to come before Congress and explain himself before taking any additional military action overseas."
'What is the strategy?' Sen. Elizabeth Warren demands explanation after MOAB strike pic.twitter.com/OsiIhOB2wG

— FOX & friends (@foxandfriends) 14 April 2017
//platform.twitter.com/widgets.js
But thankfully, retired U.S. Marine Corps Gunnery Sergeant, Jessie Jane Duff was so kind and with only one simple statement explained Warren what was the strategy of MOAB strike. The Sergeant had the perfect response to Warren.
Senator Warren: What is the strategy to bomb ISIS?

Marine: To kill the bastards Senator. https://t.co/wH20QK9L6G

— Jessie Jane Duff (@JessieJaneDuff) 14 April 2017
//platform.twitter.com/widgets.js
Nicely said, Sergeant! Trump's strategy? Wipe Isis from the face of the earth! Warren was used to a President who only pretended to do something that's why she can't understand.
Thank you, Sergeant, for solving the dilemma Sen. Warren had! Let's hope she now understands what the strategy was!!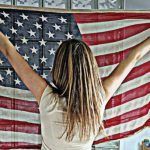 Natalie D. is an American conservative writer! Natalie has described herself as a polemicist who likes to "stir up the pot," and does not "pretend to be impartial or balanced, as broadcasters do," drawing criticism from the left, and sometimes from the right. As a passionate journalist, she works relentlessly to uncover the corruption happening in Washington.She is a "constitutional conservative".