Miami Dolphins Players Received Brutal Dose Of Reality From Sheriffs Office For Not Standing During National Anthem
Everybody knows that Colin Kaepernick's polarizing decision to protest the national anthem was a stupid thing to do! He should have known that actions have consequences, some good, some not so good. This falls on the NOT side because honoring and respect the flag of our nation is also paying respect for those who paid the ultimate sacrifice to keep of nation safe and free.
These days it is such an embarrassing shame what America has turned into. Not standing for the national anthem is a sign of disrespect, which should never be allowed! Sadly, Miami Dolphins is another team I won't be watching! Dolphins players are yet another who showed their disrespect by not standing during our country's national anthem.
Luckily, the Florida sheriff's office made it very clear that no respect for America gets you no protection. They decided they won't be putting up with their disrespect. This is why they won't be escorting the Miami Dolphins to their games anymore. This means that the Sheriff's office won't protect the players until they show the respect towards our country.
So proud of the Florida sheriffs and their policemen for taking a stand against the NFL for not requiring their players to stand for the National Anthem. After all, they are big boys, they don't need escorts. If they don't respect people who protect our Nation, then they are on their own. I believe that is called KARMA
What an irony. They kneel because they are protesting police brutality. Then ask for police protection! I agree with the Sheriff, they have the right to not escort the players anywhere!
If you can't show respect for the country that's paying you an embarrassing salary of millions of dollars shame on you!! After all, why disrespect our national anthem? If you don't want to be part of the American club then get out.
Do you support Florida Sheriff's decision? Scroll down to leave a comment below!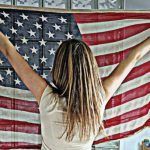 Natalie D. is an American conservative writer! Natalie has described herself as a polemicist who likes to "stir up the pot," and does not "pretend to be impartial or balanced, as broadcasters do," drawing criticism from the left, and sometimes from the right. As a passionate journalist, she works relentlessly to uncover the corruption happening in Washington.She is a "constitutional conservative".