Melania Trump Stuns Everyone At July 4-th Celebration In Gorgeous Blue Dress
Melania Trump is an absolutely a classy lady. She and President Trump both bring beauty and class to the White House!
For his first July 4th as president, Donald Trump hosted military families at the White House. He and Melania appeared on the Truman Balcony at the White House on Tuesday afternoon where our president praised the contribution of servicemen and women.
President Trump said: "Each of you here today represents that rare combination of patriotism, virtue, and courage. At this moment your brothers and sisters in arms are posted around the globe, fighting our enemies and standing watch to protect our nation, they are fighting for us. We are thanking them, praying for them and saluting them for their selfless sacrifice."
But, even though the whole event was beautiful, one image was definitely breathtaking. Our First Lady celebrated America's birthday in a gorgeous blue dress alongside President Donald Trump. She looked 100 percent patriotic in the by Esteban Cortazar dress, which had a thick white border trim along the bottom.
Class and elegance. It is nice to have a FLOTUS who dresses so beautifully. That's is what having PRIDE IN AMERICA looks like.
It is absolutely wonderful to have a FLOTUS who dresses appropriately no matter what function she is attending while representing the USA. It's beautiful to see a real First Lady with brains, beauty, and poise! We've been missing this for 8 long years in the wilderness!!
Finally, America at its best again!!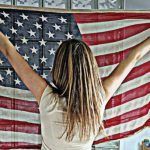 Natalie D. is an American conservative writer! Natalie has described herself as a polemicist who likes to "stir up the pot," and does not "pretend to be impartial or balanced, as broadcasters do," drawing criticism from the left, and sometimes from the right. As a passionate journalist, she works relentlessly to uncover the corruption happening in Washington.She is a "constitutional conservative".