Invisible Joe Or Green Screen? Creepy Video From POTUS Who Wanders Around In A Crowd Of Marines And Their Children Looking Totally Lost While Everyone Around Him Completely Ignores Him
Biden, who was helping organize toys at a Toys for Tots event, was in the holiday spirit, smiling and visibly joking with children who were at the charity event.
The president – an avid cyclist – tried out a couple of different rides. 
And we all know what happens when he tries to ride a bike!
Biden was joined by first lady Jill Biden at the charity event, which brings in millions of donations in toys for less fortunate children during the holiday season.
She apologized for having laryngitis and brought one of the kids up to read an excerpt from The Grinch Who Stole Christmas in her place. 
The first lady sounded hoarse and cleared her throat several times as she spoke about how seeing the children help out makes 'my heart grow three sizes as well.' 
President Joe Biden had a different problem as he was totally ignored by a large crowd of Marines and their kids at the event.
Video below:
Can you watch this video and seriously believe that this person is the President?
Twitter users had some interesting thoughts when it came to the video:
Not anyone even acknowledges him.

— Pallas (@AgeofAquarius64) December 13, 2022
No one even cares who it is! That's too funny 🤣🤣

— matt best (@mattybest1) December 13, 2022
Someone forgot it was their turn for babysitting our commander in chief.

— Ginger the Trail Pup (@trail_pup) December 13, 2022
This is the real life sequel to 'Weekend at Bernie's'.

— Rodger gully (@RodgerGully) December 13, 2022
People had different opinions and some even went there and asked if this video is real at all:
It could be a green screen and Joe could be in Delaware 🤔

— Lenny (@fordabirds30) December 13, 2022
Green screened?

— Richard Eastin (@RichardEastin1) December 13, 2022
Green screened?

— Richard Eastin (@RichardEastin1) December 13, 2022
Toys for Tots is a program run by the United States Marine Corps Reserve which distributes toys to children whose parents cannot afford to buy them gifts for Christmas. The program was founded in 1947 by reservist Major Bill Hendricks.
Jill Biden participated in the toy drive last year also, during her first year in the White House. 
Currently, Toys for Tots distributes an average of 18 million toys to 7 million less fortunate children annually.
(This post may contain disputed claims. We make no assertions as to the validity of the information presented by our Opinion Columnist. This is an opinion article, and this post should be treated as such. Enjoy.)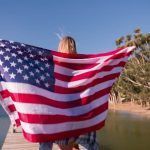 Michelle is American conservative author she is committed to the constitutional principles of individual freedom, economic liberty, limited government, personal responsibility, and traditional values. She is a libertarian and provocateur who believes in freedom and liberty for all Americans. As a passionate journalist, she works relentlessly to uncover the corruption happening in Washington, while exposing politicians and individuals who wish to do us harm.