Hollywood Actress Jennifer Lawrence Trashed Christians In An Interview
Hollywood celebrities are becoming more and more uncivilized. Acting is their job and career, what else can we expect?
Hollywood highest-paid young actress, Jennifer Lawrence, proved to be another example of a misguided young star, with no grounding, blowing up her own career. She forgot that her fame and fortune come from the public buying her product.
Lawrence sat down for a wide-ranging interview with Vogue magazine the day after Kentucky clerk Kim Davis was released from jail, where she had been held for refusing to comply with a court order to grant a marriage license to a same-sex couple.
Lawrence wouldn't even say Davis' name, even though she reportedly brought up the topic voluntarily, instead, calling her the "lady who makes me embarrassed to be from Kentucky."
The actress used the opportunity to criticize all those people holding their crucifixes, and the Christian faith itself.
"All those people holding their crucifixes, which may as well be pitchforks, thinking they're fighting the good fight. I grew up in Kentucky. I know how they are," spewed Lawrence.
"It's 2015 and gay people can get married and we think that we've come so far, so, yay! But have we? I don't want to stay quiet about that stuff," she continued.
Lawrence is nothing but a narrow-minded bigot. She may have had bad experiences with a few, but to judge all Christians in the same light is very bigoted. Besides,  who does she think is the majority of people who goes to see her films? Or used to go see her films…
We stop idolizing celebrities. We did it with Kaepernick, Americans we can do it to anyone who disrespects us!
So goodbye Jennifer Lawrence!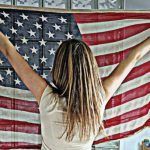 Natalie D. is an American conservative writer! Natalie has described herself as a polemicist who likes to "stir up the pot," and does not "pretend to be impartial or balanced, as broadcasters do," drawing criticism from the left, and sometimes from the right. As a passionate journalist, she works relentlessly to uncover the corruption happening in Washington.She is a "constitutional conservative".