4 High School Teens Carjacked And Kidnapped Texas Border Patrol Agent
Nowadays we live in a very scary world. Every day the news brings us more and more examples of outrageous acts of anti-social ends done by young black men.
However, I don't see white activist raising hell about wanting full justice of the law! I don't see White People screaming that they are sick of being targeted by Blacks. That is because we allow the Law to handle these things. Also, Karma catches up with everyone!
Four Florida high school kids wanted to have a joy ride…but police made sure they never forget the crime they committed during that.
These students made a terrible mistake when they decided to steal a car from a tourist. However, they learned fast that they chose the wrong person to mess with.
Now all four of them are sitting behind bars.
It turned out that the "tourist" was, in fact, a Texas border patrol agent who was vacationing with his family in Florida.
The agent Armando Alaniz, was forced into the backseat, pistol-whipped, tied up and robbed of his wallet in an Orlando hotel parking lot. He was captive for the next two hours, because of 19-year-old Gregory McDonald, 18-year-old Dante Askins, and two other teens who are 15 and 16, who drove around with him being kidnapped in the backseat.
The concerned wife of the abducted agent contacted police through the OnStar vehicle security service.
Sheriff Jerry Demings said: "The OnStar representative placed a call to the vehicle and heard someone screaming for help."
Luckily, agent's harrowing ordeal ended when the carjackers ditched the car at a vacant drug house and fled.
18-year-old Dante Askins and two other teens who are 15 and 16 had previous run-ins with the law. Deputies said that all four kidnappers were taken into custody.
"These high school students were playing a dangerous game, and they got caught playing a dangerous game. If you are coming to our community with criminal intent, we want you to think twice about it," Sheriff Jerry Demings said.
Hmmm….kidnapping and pistol-whipping a Federal Agent. Should all be tried as adults and should be sent to a Federal Prison. Want to commit adult crimes, got to pay the consequences, and do the adult time.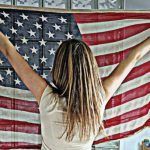 Natalie D. is an American conservative writer! Natalie has described herself as a polemicist who likes to "stir up the pot," and does not "pretend to be impartial or balanced, as broadcasters do," drawing criticism from the left, and sometimes from the right. As a passionate journalist, she works relentlessly to uncover the corruption happening in Washington.She is a "constitutional conservative".