First White NFL Player To Kneel During National Anthem Destroyed His Career With His Explanation Why He Refused To Stand
Must be nice to guard a line or quarterback for millions of dollars. But, someone sons and daughters are guarding this country for virtually nothing and these multi-millionaire athletes who never did anything in their lives but play a game, disrespect it. It is time these NFL players to quit acting like self-entitled diva's and show some respect.
Cleveland Browns tight end Seth DeValve became the first white NFL player to not stand during the national anthem during the recent movement of using that moment before NFL games to make a statement against social injustices.
DeValve, whose wife is African American said: "The United States is the greatest country in the world. It is because it provides opportunities to its citizens that no other country does. The issue is that it doesn't provide equal opportunity to everybody. And I wanted to support my African-American teammates today who wanted to take a knee. We wanted to draw attention to the fact that there are things in this country that still need to change."
He added: "I myself will be raising children that don't look like me, and I want to do my part as well to do everything I can to raise them in a better environment than we have right now. So I wanted to take the opportunity with my teammates during the anthem to pray for our country and also to draw attention to the fact that we have work to do."
He further explained how the kneeling prayer in a circle during the anthem came about.
"Just the other day, guys started to talk about it. We should come up with something that we can do and try to get as many people involved to show that we support Malcolm Jenkins, [Seahawks defensive end] Michael Bennett, other guys around the league that are trying to use their platform and also doing things in the community to try to help and show we all want to try to come together as a nation and do better for ourselves."
Last week, it was Bennett who called on white players to get involved, saying, it 'would change the whole conversation.
We don't care how DeValve justifies his protest of the Anthem. The fans only see their sons and daughters in the military fighting for a bunch of pampered overpaid football players disrespecting their kid's sacrifice and the country that made them rich. They are the ones that count and without them, you have no occupation, no salary, and no respect!
But if they continue with this behavior, pretty soon they'll be playing in an empty stadium. No fans, no cheering, no nothing. They'll have to wonder if it was really worth it as they're being told they no longer have a job.
What do you think?
Scroll down to leave a comment below!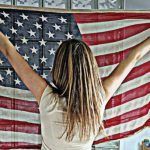 Natalie D. is an American conservative writer! Natalie has described herself as a polemicist who likes to "stir up the pot," and does not "pretend to be impartial or balanced, as broadcasters do," drawing criticism from the left, and sometimes from the right. As a passionate journalist, she works relentlessly to uncover the corruption happening in Washington.She is a "constitutional conservative".