WATCH: What First Lady Wore To Deliver A Big Speech At The White House (PHOTOS)
Melania is so beautiful, and she has a beautiful soul, demonstrating care and compassion for others. She reminds me of Princess Diana. We are so blessed to have her for our first lady. When I think of her predecessor….in comparison….there are no words.
Have so much respect and admiration for this kind and beautiful lady! Finally class is back in the White House!
FLOTUS delivered a remarkable speech Thursday at the White House about combating the opioid crisis in a gorgeous black dress.
Via The Daily Caller:
The first lady looked striking in the dress with 3/4 length sleeves. It went down just past her knees, and she wore matching black high heels.
She set the perfect tone of compassion and understanding when she took the mic ahead of President Donald Trump's speech about the crisis.
"We are here today because of your courage," Trump explained, as she praised the survivors of the drug. "The opioid epidemic has affected more than 2 million Americans nationwide and sadly the number continues to rise."
Absolutely correct! Melania always portrays herself with dignity, pride, care, and grace. She is never rude, or anyway, obnoxious or pretentious. I think she presents herself to the world as an excellent example of proper accomplishment in the USA. So, for all the degrading fools who try to put her down for appearing so outstanding for her job, their appearance is obviously as much a disgrace as their work.
What do you think about this? Scroll down to leave a comment below!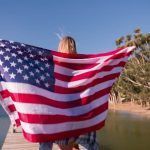 Michelle is American conservative author she is committed to the constitutional principles of individual freedom, economic liberty, limited government, personal responsibility, and traditional values. She is a libertarian and provocateur who believes in freedom and liberty for all Americans. As a passionate journalist, she works relentlessly to uncover the corruption happening in Washington, while exposing politicians and individuals who wish to do us harm.