Crowd Watch As Rapist And Murderer Of A 3-Year-Old Girl Was Executed With Machine Gun
The fact is rape on an innocent child is one of the worst offenses ever. Noone should ever harm a child. NEVER!!! There is no cure for the evil inside of a man capable of committing such a heinous act as this…incarceration does not cure the mental illness of those capable of committing rape. So I wonder… is death is the only cure for this kind of evil?
Muhammad al-Maghrabi was killed as he lay on the floor following his conviction over the death of the little girl, Rana Yahya Al-Matari. Al-Maghrabi admitted to raping the girl in his hut to the south of the capital city on the first day of Eid al-Fitr.
He was shot by police who opened fire with a machine gun at a public square in Sana'a, Yemen while his execution, at point blank range, was broadcast on live TV across Yemen.

The rapist's punishment was watched by thousands of people, including many who recorded what happened on their mobile phones, in the capital city of Sanaa.
Al-Maghrabi's hands were tied behind his back as he was led from a prison van before being laid down on a rug in front of the crowds of people.
After the execution was over, Yahya al-Matari the father of the 3-year-old girl who was raped by Al-Maghrabi, told reporters that he felt as if he had been reborn.
He said: "This is the first day in my life," he said. "I am relieved now."
Yemen punishes murderers with a death sentence and beheading. However, Sharia law does not specify what type of method can be used for a criminal's punishment.
There is no excuse for raping anyone, especially children. The sexual preferences for little ones will not change. Sexual perversion does not go away or return to normal. It continues down its disgusting path to more disgusting desires. The victim lives the remainder of their lives managing the consequences of this horrific act. Which one deserves concern?
Do you support the death penalty for a child rapist? Scroll down and let us know your opinion!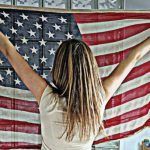 Natalie D. is an American conservative writer! Natalie has described herself as a polemicist who likes to "stir up the pot," and does not "pretend to be impartial or balanced, as broadcasters do," drawing criticism from the left, and sometimes from the right. As a passionate journalist, she works relentlessly to uncover the corruption happening in Washington.She is a "constitutional conservative".