This Backstabbing Republican Governor Betrayed Trump He Will Team Up With Democrat For 2020 Run
We sure liked Republican Ohio Gov. John Kasich more before he really started showing his true colors. His attempt at this past Presidential election showed us he's just another RINO.
Now, it looks to me Kasich is another Hillary who can accept he lost!
A Republican Ohio Gov. John Kasich could be teaming up with a major Democrat — Governor John Hickenlooper for the presidency in 2020 on a unity ticket.
Kasich is more known as an opponent to Trump in the Republican primary for president last year until he dropped out in May. He only won his home state of Ohio during the race. The self-described moderate also opposed the president recently, criticizing Trump's response to the violence in Charlottesville, Va.
On Wednesday Kasich tweeted: "I've repeatedly encouraged POTUS to unite our country. It was disappointing that last night in Phoenix, he once again refused,"  referring to the president's rally in Arizona in which he brought up the riots. "After all, what greatness has America ever accomplished by tearing down its own?"
I've repeatedly encouraged POTUS to unite our country. It was disappointing that last night in Phoenix, he once again refused. 1/

— John Kasich (@JohnKasich) August 23, 2017
However, on Sunday, Kasich said he had no plans to challenge President Donald Trump in 2020, but he said instead "I"m rooting for him to get it together."
The two have been making joint appearances to discuss their views on health care, and they plan to expand their speaking portfolios to include their views on immigration and job creation, two issues that President Donald Trump campaigned on during the course of the 2016 presidential election.
Getting crushed by Trump in 2016 wasn't enough defeat for him? I guess Kasich didn't get the message. If any one wanted him, they would have voted for him this time.
Democrats need to spend more time developing candidates and policies of their own, but apparently, they have nothing to offer. I guess their Democrat candidate has not been born yet.
However, if you don't offer anything better to the people, they must learn to live with Trump until 2024.
What do you think? Scroll down to leave a comment below!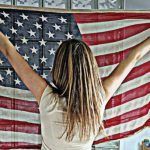 Natalie D. is an American conservative writer! Natalie has described herself as a polemicist who likes to "stir up the pot," and does not "pretend to be impartial or balanced, as broadcasters do," drawing criticism from the left, and sometimes from the right. As a passionate journalist, she works relentlessly to uncover the corruption happening in Washington.She is a "constitutional conservative".