Buffalo Bills RB LeSean McCoy Drops A Bombshell About Kaepernick! Game Over For Kaepernick
As people are protesting the NFL for allegedly coming down on Kaepernick for his political stances, Buffalo Bills running back LeSean McCoy has offered a different opinion. Apparently, he doesn't agree with those who think that Colin Kaepernick doesn't have a job in the NFL just because he elected to kneel during the anthem as a protest against racial injustice in America. The issue is whether he's a good quarterback or not?
Not his knee or his race.
McCoy said: "It's a lot more than just he's not on the team because he doesn't want to stand for the national anthem. I think it's more than that. That may have something to do with it, but I think also it has a lot to do with his play. I'm sure a lot of teams wouldn't want him as their starting quarterback. You know? That chaos that comes along with it, I mean it's a lot.
As a team, trying to win and not have a distraction on the team, I just take that as a player,  there's certain players that could be on the team with big distractions, and there's other players that they're not good enough where it's worth it.
I think his situation is not good enough to have him on the team with all the attention that comes along with it. I'm sure if a guy like [Tom] Brady or a guy like whoever is your favorite player — Odell Beckham or a guy like that, you'll deal with that attention and play him."
McCoy continued with a question: "You just got to look at all sides like if I'm an owner or the GM of a team, do I want to put him on my team? Is he good enough to be on the squad, to even deal with everything that's going on? That's something that I don't really partake in."
When he was asked about Michael Vick next to Kaepernick on the field, McCoy answered that Vick is "10 times better."
"That's a great example. Take a guy like Micahel Vick who went through all that he went through," McCoy said. "He's 10 times better than Kaepernick. So you'll deal with that situation. You'll deal with that attention the media aspect of it, the good and the bad attention to it, compared to Kaepernick. He's really not that good of a player, you know what I'm saying, to deal with. But people outside of sports don't really know that. They see only one side of football, you know when a guy stands up for what he believes in, the NFL's against him. I think there's more than that. I think it has to do with some of that. And also, I mean, dealing with him with a team trying to build together. There's so many outsiders can mess up a team. I can see both sides. But I just think a guy like him, a great example you used for Michael Vick, and I was on that team. And I haven't seen more media for a player like that ever. And we'll deal with a guy like Michael Vick or LeBron James. You're going to deal with them, that attention good or bad, positive or negative, compared to a guy like Kaepernick, who's just OK. He's an OK player, you know. He might not make certain teams. But the guys I talked about, they're going to make them teams. They're going to be the star of the teams. It is what it is, man."
McCoy said he could see both sides of the issue, but he still doesn't see the anthem as the fundamental reason why Kaepernick remains unsigned:
"So people outside of sports don't really know that. They see only one side of a black guy standing up for a good reason [and] the NFL is against him, but I think it's more than that. I think it has to do with some of that. But also, dealing with him with him on the team you're trying to build together. There's so many outsiders [that] can mess up a team. I can see both sides, I really can."
I will honestly say that it is great to hear from someone who actually would be in the know about a situation like this. I think he made points that are really hard to argue with because they are based on fact.
First, Kaepernick is just an okay player, he's right, he statistics from the last several years show that. And two, he's a distraction. Owners, general managers, and coaches are trying to build a team and not individuals. A team of people who can play together, with a common goal of winning.
Do you agree with McCoy? Scroll down to leave a comment below!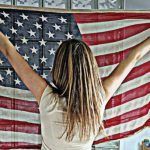 Natalie D. is an American conservative writer! Natalie has described herself as a polemicist who likes to "stir up the pot," and does not "pretend to be impartial or balanced, as broadcasters do," drawing criticism from the left, and sometimes from the right. As a passionate journalist, she works relentlessly to uncover the corruption happening in Washington.She is a "constitutional conservative".