Watch Scaramucci Trolls Jake Tapper On Live TV With This Stunning Statement!
There is nothing worse than getting your a** pickled and handed to you in a jar, in your own front yard. Well, that happened to CNN's reporter Jake Taper.
New White House Communications Director Anthony Scarammucci this morning appeared on CNN where he told Jake Tapper that he will deliver the network a box of tissues when President Donald Trump gets re-elected in 2020.
Of course, that's assuming CNN is even around by 2020.
.@Scaramucci: "He's gonna win again. I'll bring a box of kleenex…to CNN" @jaketapper: "We don't need kleenex" https://t.co/mRYkyPKKM1

— CNN (@CNN) July 23, 2017
Total exchange via The Gateway Pundit:
Anthony Scaramucci: If I said some things about him when I was working for another candidate, Mr. Trump, Mr. President, I apologize for that. Can we move on off of that? I know you and I have moved on off of that. Jake hasn't moved on off of that, obviously and that's okay Jake, I don't care. But, I'm going to be working for you and we're going to serve the American people and we're going to get your agenda out into the heartland where it belongs and we're going to turn this thing into a movement, a bigger movement than we have already.
Jake Tapper: I love how you're talking to one specific viewer right now, the most important audience that there is.
Anthony Scaramucci: I like talking to him, but you know who else I'm talking to? The people I grew up with. They get me and get him.
Jake Tapper: I get it. I grew up in a very similar neighborhood in Philadelphia.
Anthony Scaramucci: He's gonna win again, Jake. He's gonna win again and I'll bring a box of Kleenex over here to CNN in 2020.
Jake Tapper: We don't need Kleenex.
Anthony Scaramucci: He's gonna win again Jake. We're going to get this agenda prosecuted. He's gonna win again."
You have got to like Scaramucci. He is not vulgar, he is not rude but he gets to the point.
That was a respectful slap on the face of Jake….Scaramucci is 100% right, Trump will win again. The silent majority elected him and now that majority is only growing as Trump works to keep his promises against obstructionists.
However, I love it when the Left continues its crazy. Keeps exposing itself to more and more people every time as the feckless faithless frauds that they are in reality.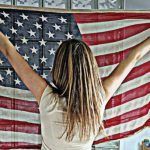 Natalie D. is an American conservative writer! Natalie has described herself as a polemicist who likes to "stir up the pot," and does not "pretend to be impartial or balanced, as broadcasters do," drawing criticism from the left, and sometimes from the right. As a passionate journalist, she works relentlessly to uncover the corruption happening in Washington.She is a "constitutional conservative".