Young Man Got What He Deserved For The Disrespect He Showed During Cop's Funeral
NYPD Officer Miosotis Familia, a 48-year-old single mother-of-three, was shot dead in The Bronx as she made notes in her patrol car in the early hours of July 5. Her killer, paranoid schizophrenic Anthony Bonds, 34, was gunned down by other police officers as he tried to flee.
That is why thousands of New Yorkers gathered together on the streets of the Bronx Borough to show respect, solidarity, and support for the family of slain NYPD Officer.
Unfortunately, this day was even sadder after what one poor excuse for a human being named Julien Rodriguez did.
New York Post reported that Rodriguez who is 16 years old defiantly blasted the NWA song "F— Tha Police" out from his third-floor apartment window at the same moment as thousands of cops were gathered below to mourn slain cop Miosotis Familia.
Apparently, Rodriguez said it was "satisfying" to play the song on repeat from his apartment because according to him, his older brother and best friend were unjustifiably killed by cops.
"Since they did not show respect for my brother and my friend, why should I show respect to them?" the teen told The Post."

The teen told The Post that he eventually apologized to the cops. Sadly, the main reason for the apology was because the building super threatened to toss him and his family out of their home if he didn't.
Rodriguez said: "I apologized because it was between the house and apologizing."
Cops at the funeral were angry and disappointed by the disrespect Rodriguez showed.
One of the cops said: "This is the s–t we face every day."
But, if you don't show respect toward other, you will not receive respect in return. Unfortunately, Rodrigez did not know this.
"After he showed disrespect for the fallen police officer, the apartment's owner took matters into his own hands. He said that he was going to expel him from the apartment Rodriguez because he did not show respect.
"I left my job, came to the apartment, and told them they have to get out of there," said the man, who only gave the name Jesus and said he had been allowing the siblings to stay there for the week. "I've got a deep respect for all the police — I didn't know they would do something like that."
Disgusting, it's appalling to have someone dismiss a funeral. Even thought Rodrigues is just a boy he is aware of the consequences of his actions. So he got what he deserved to have so little respect for a family grieving a loss.
It is tragic situations such as the murder of this courageous mother and officer, that we realize how we trivialize their vital role in protecting and stabilizing the community. We should be forever grateful that we can do our things normally without always thinking about our safety. Respect to all front line services!
What do you think? Share this article if you support our police officers!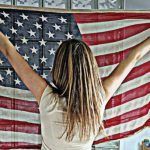 Natalie D. is an American conservative writer! Natalie has described herself as a polemicist who likes to "stir up the pot," and does not "pretend to be impartial or balanced, as broadcasters do," drawing criticism from the left, and sometimes from the right. As a passionate journalist, she works relentlessly to uncover the corruption happening in Washington.She is a "constitutional conservative".