WATCH! The View Glorify Eminem's "Bravery"… Accidentally Explains Trump's Appeal (Video)
I have never seen so much hate for a President in my life. It's always the washed-up celebrities that have nothing to lose bashing Trump. In a freestyle rap broadcasted during the BET Hip-Hop Awards, Eminem attacked President Trump!
He rapped: "This is his form of distraction/ Plus, he gets an enormous reaction/ When he attacks the NFL, so we focus on that/ Instead of talking about Puerto Rico or gun reform for Nevada/ All of these horrible tragedies and he's bored and would rather cause a Twitter storm with the Packers."
Will the real slim shady please shut up?!? Yes, I know…another rich guy complaining about oppression. What a joke.
The FULL verse that EVERYBODY is talking about! @eminem BODIED THIS! #HipHopAwards pic.twitter.com/zoS0wEwjQF

— BET (@BET) October 11, 2017
And the women on "The View" did not wait too long. We already established that the women from The View are so evil-minded and have such dark spirits that the verbal filth Eminem uses is right up their alley. Doesn't matter who he is talking about they are drawn to the vulgarity and darkness.
So, almost immediately after the song was released the hosts praised the rapper for his "bravery."
Joy Behar stated:
"That's why you have to give him credit. Very few people in the industry will go out and say I don't care if you don't support me. This is more important than my popularity."
Hysterical! The ladies of 'The View' praise Eminem's 'Bravery' for expressing his opinion even if he loses fans over it, yet they can't stand it when President Donald Trump does exactly the same thing. Come on ladies – can you say H – Y – P – O – C – R – I – T – E?
Those "women" are an embarrassment to so many true-blue American women. Our American soldiers, police, firemen and fighter pilots are brave. You people are a disgrace. This guy is a clown!
I wonder were they applauding when he was talking about killing his wife? That "show" needs to be taken off the air.
What do you think? Scroll down to leave a comment below!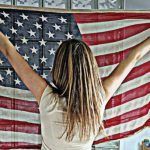 Natalie D. is an American conservative writer! Natalie has described herself as a polemicist who likes to "stir up the pot," and does not "pretend to be impartial or balanced, as broadcasters do," drawing criticism from the left, and sometimes from the right. As a passionate journalist, she works relentlessly to uncover the corruption happening in Washington.She is a "constitutional conservative".