Video: A Group Of Left-Wing Insurrectionists Tried To Breach The White House Lawn – Don't Expect The Media To Say Much At All About It
More than 30 protesters were arrested in front of the White House on Monday, according to the U.S. Secret Service.
This comes after thousands of pro-Palestinian activists took to the streets of the nation's capital on Saturday to advocate for a cease-fire between Israel and the Iranian-backed Hamas militant group, urging President Biden to end the conflict.
The "Day of Action for Palestine" event drew more than 10,000 pro-Palestinian protesters to Washington, D.C., on Saturday, according to the American Muslims for Palestine. Hundreds of Palestinian flags waved as demonstrators marched through the streets before culminating in a rally outside the White House. As rain poured down, a cohort of Palestinians, Americans, some Jewish people and more cheered for the freeing of Gaza and the end of the war between Israel and Hamas.
In other words leftists in Covid masks who support Palestinians staged an insurrection outside the White House today.
Video below:
On Monday, "more than 30 individuals were arrested by the U.S. Secret Service's Uniformed Division for Unlawful Entry or Incommoding after crossing safety barriers or blocking entrances during a demonstration at the White House complex," Special Agent Steve Kopek, a U.S. Secret Service spokesperson, told Fox News in a statement.
If the protesters were not a far-left rioters this would have been called insurrection but the media refuses to use the same language when they should label far-left protesters as insurrectionists!
OPINION: This article contains commentary which reflects the author's opinion
Reminder: The purpose of the articles that you will find on this website, are to EDUCATE, not to disinform or grow hate and anger!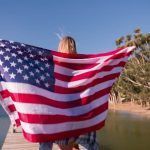 Michelle is American conservative author she is committed to the constitutional principles of individual freedom, economic liberty, limited government, personal responsibility, and traditional values. She is a libertarian and provocateur who believes in freedom and liberty for all Americans. As a passionate journalist, she works relentlessly to uncover the corruption happening in Washington, while exposing politicians and individuals who wish to do us harm.